Gap and Visionaire, a NYC-based luxury art and fashion publication, have teamed up to launch a collection of T-shirts with a secret layer. The pieces feature visuals that are created using special UV-sensitive ink that turns black-and-white print into colorful ones when exposed to direct sun.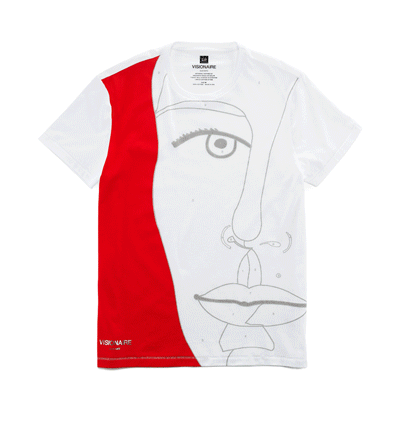 The SOLAR ink, which was originally used for Visionaire No. 56 SOLAR issue in 2009, comes as a magic element that allows to hide messages and images and enable them reveal only under specific conditions. The collection features black-and-white artwork by artists including Alex Katz, Yoko Ono, Roe Ethridge, Peter Lindbergh, François Berthoud, and more. Each print has a hidden feature—under the sunlight, the prints either get a single colorful element or colors get spilled all over the image.
The collection is rolling out in May—it will be available at this year's Frieze Art Fair, May 9–12, in New York, and later in major Gap stores across the globe, select Visionaire retailers, Gap Boxpark in London, as well as Gap White Space in Tokyo and in New York.
"This is a great partnership. [The collection] intersects fashion and art and allows a broader audience the opportunity to experience both brands," commented Rebekka Bay, Gap's creative director.