Bacardi recognizes the sports passion vibe and celebrates untameable football fans with a campaign that drives company's owners feel more sympathy towards real fans who don't want to miss important World Cup matches. The new campaign, BACARDÍ Untameable Fans, encourages US soccer fans to sign and share a petition asking their employers to give them more free legitimate time during the working day.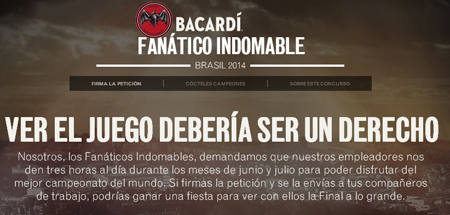 BACARDÍ Untameable fans can sign a petition on bacardifanaticoindomable.com, demanding their employers provide three-hour viewing breaks to let them enjoy the football season without skipping work furtively. In fact, participants just declare their intension to have a permission to watch the matches during their working hours—everything is quite transparent.
Anyone who signs a petition, enters a contest for a chance to win the ultimate viewing party during the final World Cup match. Bacardi will provide transportation to and from the winner's residence to the location of the party, as well as a private screening area for the game and a feast for up to 10 friends aged 21 and older. The winner of the competition will be announced on July 7.
"The BACARDÍ Untameable Fan contest is designed to inspire our consumers to boldly pursue their passions," commented Arvind Krishnan, VP of Marketing—Rums, at Bacardi U.S.A., Inc. "As a company, Bacardi has a remarkable history built on the pursuit of passion and celebrating one's irrepressible spirit—so it's a natural fit for the brand."
Bacardi is also encouraging Untameable Fans to trade their most loved possession for a trip to one of the countries whose team is playing in the final. "Experience the Final Match surrounded by the most Untameable Fans in the world," says the description to the contest. To participate, fans are to submit a photo of a possession along with a brief description through July 2.