The Brain Tumour Charity in the UK and M&C Saatchi have teamed up to develop a street project, designed to raise awareness of the brain tumour problem and contribute to the further research of the problem.
On June 16, the charity has turned Ocean Outdoor's full-motion, digital, out-of-home screen on Eat Street into a display for an interactive game that illustrates the disease. The game was inspired by a trivial arcade Ping Pong game, still it had a tech twist: the Mind Pong activity used the electroencephalography (EEG) technology to read brain waves.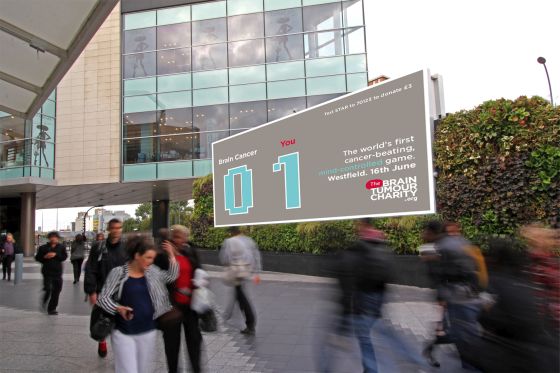 The Mind Pong game got players to wear Velcro-attached headband that tracked a person's brain activity. The signals were used to control the course of the game on the huge digital screen—the players could move the on-screen paddle up and down with their thoughts only, by concentrating (for moving it up) or relaxing (for pushing it down). The activity showed how actively the brain sends the signals to perform tasks. 
The game was free, of course, still the players were asked to donate £1 to support the charity. In fact, the brain tumours kill more people under the age of 40 in the UK than any other form of cancer. Despite the wide spread, the research of this cancer takes only 2% of the overall cancer research budget.
"We were honoured to win this prize from Ocean Outdoor thanks to M&C Saatchi's work in creating Mind Pong," commented Louise Taylor, Director of Fundraising and Communications at The Brain Tumour Charity. "The day will enable us to raise awareness of brain tumours, the vital research we fund and the support we provide for anyone affected. In addition we will be able to share our 'HeadSmart' campaign with families so they are aware of the signs and symptoms of brain tumours in children and young people."