H&M is rolling out a music initiative on the Asian market that sees the brand's fashion catalogue working as a musical piece.  The effort dubbed "Fashion Mixer," developed by Ogilvy & Mather Advertising, Shanghai, allows consumers to turn apparel pieces into musical sounds and then mix them.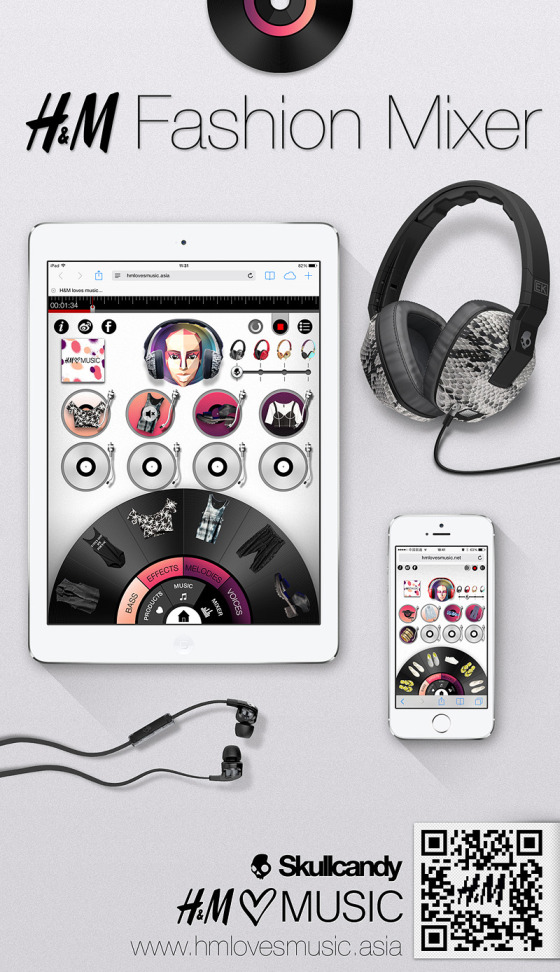 The piece is based on the H&M's Divided collection that features pieces for men and women. Each item of the collection including shirts, dresses, shoes and accessories relates to its own sound effect ranging from beats to melodies and voices. Users are invited to add various fashion items by dragging and dropping them onto a special sampler on a mobile device that fuses sounds to create a one-of-a-kind tune.
The personalized unique tracks can also be shared via Facebook, WeChat and Weibo as a statement of passion toward affordable fashion and music. To tap into the experience, one is to scan the QR code on the dedicated hmlovesmusic.asia page. The code also reveals the latest collections, exclusive tracks and the music-making pieces.
All the tracks created as part of this experience are shareable, user can 'like' them on social media and earn more points. The authors of  tracks with most likes on the Top Mixers 100 Chart can win headphones from Skullcandy. The experience is open to residents of China, Hong Kong, Singapore and Malaysia.
"H&M is leading digital and social media as the first brand to create an interactive music mixing experience via the mobile web," commented Sascha Engel, Deputy Head of Digital, Ogilvy & Mather China. The Fashion Mixer engages youth to explore the brand's new summer line in a relevant way that connects their passion for music with fashion."