IKEA, a recognized and much-loved expert in arranging home spaces across the globe, has released a report that sheds light on contemporary morning rituals. The new report, titled "Life at Home: A World Wakes Up," provides a sneak peek into how people wake up, have breakfast, interact with family members, and many more, in eight big capitals across the globe—Shanghai, Moscow, Berlin, Stockholm, New York, Paris, London and Mumbai.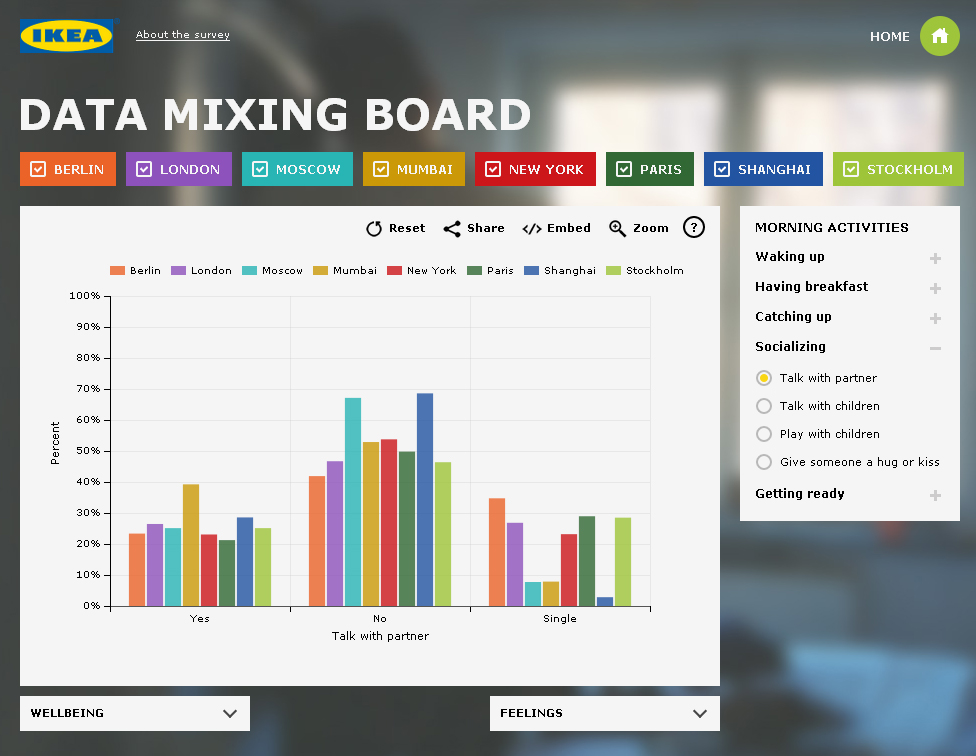 The detailed overview reveals morning rituals—waking up, having breakfast, catching up, socializing and getting ready,—adopted by people across the globe. It does not reveal any conclusions and lets reader figure the trends out on their own. This is the first ever global report of this kind—previously, IKEA revealed a study of consumer home habits across the U.S.
The thorough report analyzes not only how popular this or that activity is among more than 1000 respondents in each of the regions, but also provides a better insight into the data on the Data Mixing Board using special filters such as age, gender, occupation, household income, number of rooms, and more. Plus, the board also reveals the level of life and morning satisfaction and confidence of leaving home.
For each city, IKEA has revealed a comprehensive special report, unveiling unique facts and details about morning rituals, figures, and more. Find one random fact about each of the cities below (for much more precious information, visit the site of the report):
Berlin: 24% of people in Berlin think self-reflection in the morning is important;
London: 27% of Londoners snooze more than once;
Moscow: 4 out of 10 put on make up in the morning;
Mumbai: 66% of Mumbaikars who talk to each other over breakfast talk about their friends and family;
New York: The most common place where New Yorkers self-reflect on weekday mornings is bedroom, where they think of something they're grateful for;
Paris: 44% of 'evening people' are missing out on their creative potential by waking up too quickly;
Shanghai: 5% do some work at home before they head off to work;
Stockholm: 78% show physical affection towards someone they live with in the morning.
The interactive report can also be downloaded in the illustrated text version here.