At the beginning of 2014, Time named collaborative consumption as one of the "10 ideas that will change the world." Collaborative consumption describes a shift in consumer values, from ownership to access. Together, communities and even entire cities are using less by renting, sharing, swapping and bartering products on a scale never experienced before. OneFineStay, for example, gives people the chance to stay in someone's house while they're away, whilst Freecycle allows us to exchange unwanted goods for free.  These are just two examples of how collaborative consumption is transforming the way we live.
Collaborative Economy
Recently on a weekend away in Amsterdam, I came across an intriguing statement: "Amsterdam, Europe's most sharable city." My assumption was that it was something to do with social media. But wandering around the beautiful city it became quite apparent that that's not what it was promoting. Amsterdam is a unique city; there are few cars for starters, people either cycle or use public transport and everyone encourages recycling. Seeing the poster again, I wrote down its link, Share.nl. The site, created in the Netherlands, is calling for the entire country to become a 'collaborative' economy.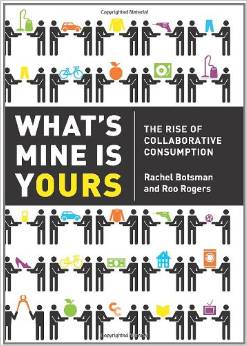 What's mine is yours, a book by Rachel Botsman and Roo Rogers (Collins, 2011) explores the positive impacts humans can have when they work together and the powerful nature of collaborative consumption. The book celebrates 'power to the people' and explores how the innovative use of technology enables us to create independently of third parties and bring about positive environmental and social change. But it's definitely a whole lot more than just a book about sharing resources with others, it's part of a wider collaboration between the book's authors and a Collaborative Consumption website, which allows anyone to take part in the movement that is fast building around this subject.
Making the change
While the motivation for collaborative consumption is usually stemmed from self interest, whether it is cost, convenience or efficiency, the beauty of this movement is that self-interest is paired with a social and community mindset—people have to work together effectively to make anything possible. When all too often we are told that we are isolated and disconnected from one another, the collaborative consumption movement couldn't arrive at a better time.
"The relative affordability of almost anything, increasingly high-tech consumer platforms, along with close-knit social media communities and the economic downturn of 2008 have all helped the collaborative consumption movement to flourish" (The Guardian, Jan 2014).
So put simply, we see a culture where we value a zip car membership over the latest model of car. Digital ownership has already become popular (and arguably more appropriate) with music downloads and ebooks reducing the need to purchase the physical item—instead of purchasing DVDs, we join Netflix.  Rather than feeling deprived and unsatisfied, we feel content and rewarded.
It is the millennials who are leading the way with this new behaviour. Their needs are about fulfillment, how the assets can satisfy a desire through the experience rather than ownership itself; it's about watching the film rather than owning the DVD. In other words, access and experience trumps possession.
What's different about digital startups like Freecycle and Couchsurfing is they use the collaborative consumption principles to offer people alternatives that do not contribute to mass consumption and do not necessarily involve big brands. In many cases they are cheaper too. Collaborative consumption is becoming the success story of today: affordable, personal and rewarding. 
Just a niche idea? 
What is the opportunity for mainstream brands to get involved? Right now we are seeing some bigger brands dip their toes into the collaborative waters. The obvious example is car sharing where the term collaborative consumption was first coined. Car manufacturers BMW have launched DriveNow, a car-sharing scheme run by Sixt, while Peugeot's new service, Mu, allows people to lease cars, bikes, scooters and vans.
Other successful examples involve bigger brands that have had to embrace secondary markets. In 2010, Swedish based IKEA launched an online platform allowing consumers to resell their IKEA goods; asserting the redistribution initiative supports the company's environmentally friendly ethos.
While these are some examples of what is currently being done, what are the opportunities for a challenger brand? It's simple: make adaptations, take a stand and support this new way of thinking. Lead by example; brands that include 'sharability' values within a products' life cycle will reap the benefits of being socially positive.
Finally there is an opportunity for a new, hugely influential and loyal target audience, though brands need to reach them on a personal level.
So where will collaborative consumption lead us? Taken to its extreme, it would spell the end of what we currently know as ownership. Product ownership will be short lived with bought goods being swapped, lent or borrowed. The value of the service has been estimated well over £300 bn with no sign of it slowing. It is clear that physical ownership is becoming less relevant than ever, and any brand that hopes this will be a passing phase may be in for a nasty surprise.
About the Author
Bronwen Rees is a Junior Designer at Rufus Leonard. Bronwen started at Rufus Leonard as one of their first RAW interns, in June 2013, and is now a Junior Designer working on the brand and comms team for clients such as Halifax and British Gas. Prior to joining Rufus, Bronwen completed various design and illustration placements. She graduated from Winchester school of Art with a BA Graphic Design Degree, and has a real passion for participatory and sustainable design.