Following the launch of the global "Where is Next" social compass that is designed to help people discover some hottest clubs and pubs in their city, Heineken is rolling out the "Routine Interruptions" effort in the USA to help urban dwellers re-discover their area. The new experience comes as part of an ongoing "Cities of the World" campaign, launched this spring.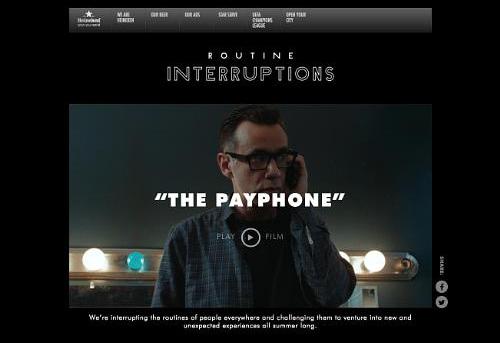 Heineken is set to encourage Americans to "get outside of their daily routines and unlock the secrets of their cities." The campaign is rolling out on a special website and is fronted by Portlandia star, SNL legend and 2014 EMMY nominee Fred Armisen. The hub will reveal a series of the latest social experiments that are designed to help consumers be brave and step outside the world they live in every single day.
While in the "Departure Roulette" project and the "Dropped" campaign Heineken sent its fans to distant locations across the globe, now it urges people to focus on the area where they actually live. The brand recruits city explorers in quite an old-fashioned way—people of legal drinking age are invited to enter their phone numbers on the site and wait for the brand to call.
It will be a "mysterious call from Heineken," says the press release. And if these people agree to dive into something totally new and unknown, soon they will be unlocking unique experiences in their city. The participants will be visiting "unique cultural activities" such as secret concerts in living rooms with Sofar Sounds and one-of-a-kind dinners with underground social dining-club, Dinner Lab, where they will be able to step out of their comfort zone and see their city locations from a totally new point of view.
The first installment of the series is the "The Payphone" experiment, produced by Wieden + Kennedy New York—it sees five New Yorkers out of over a thousand passers-by who picked up the ringing payphone and then agreed to walk into the unknown. They were rewarded with a unique night club experience for their brave attitude.