LinkedIn's Relationships @Work study provides valuable insights into the relationships between employees, and shows that good connections with co-workers can make people happier. The survey reveals that 46% of professionals worldwide think that "work friends are important to their overall happiness" because it generates positive atmosphere.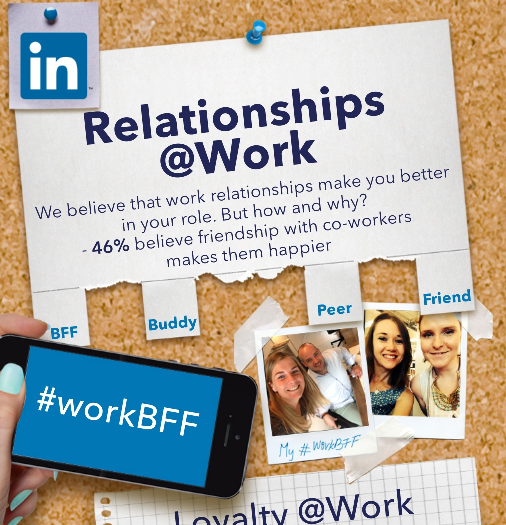 LinedIn has posted infographics that sheds light on the emotional comfort at work. The results differ depending on the generation—for instance, 67% of millennials are open with their co-workers about their personal details, such as salary, relationships and family issues, but only about one third of baby boomers are sharing this information with people at work. Younger co-workers also tend to communicate outside their office, discussing non-professional issues.
The survey shows that 28% millennials have texted a manager out of work hours to talk over some non-work related themes, while 10% of baby boomers do so. Other highlights include:
— 51% stay in touch with former colleagues
— 33% of millenials vs. 5% of baby boomers think that socializing with colleagues helps them move up the career ladder
— For 18-24 year-olds, friendships in the workplace make them feel happy (57%), motivated (50%) and productive (39%)
— 18% of professionals say that friendship with colleagues make them more competitive in their work.
The level of "social intimacy" between co-workers is not the same across the globe. For instance, 51% of professionals in Indonesia think that their colleagues understand them better than friends, while only 9% of respondents in the UK share this opinion.
In the blogpost, LinkedIn's director of corporate communications Catherine Fisher gives some tips on how to feel connected in the workplace.