Tapping into the "collaborative consumption" trend, the e-commerce furniture store Made.com in the UK has encouraged current and potential customers of the platform to reach out to each other in physical space and share experience. The site prompts shoppers to meet those who have already purchased furniture from the site to see how they integrated the pieces into their interiors.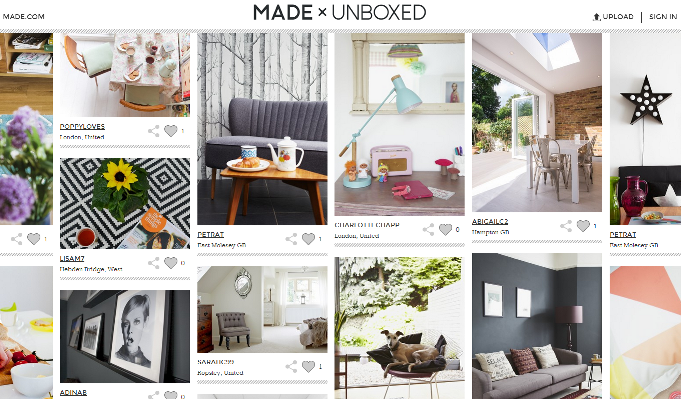 Catalogues, hacks and tips are yesterday—with this twist, Made.com wants to add another pinch of real-life use. The site offers visitors an opportunity to search by postcode or by product name to discover who has purchased what in their area. The site uses a database of customers, who have agreed to share their personal details with the community.
The program dubbed "Made x Unboxed" kicks off with nearly 100 brand advocates, who submitted some personal info and also added professional photos of their home. More consumers are invited to upload their interior solutions and become a part of a big team of furniture arrangement experts. Users can also connect with other likeminds and see with their own eyes how others have used the pieces to make the most of their home spaces.
"Unboxed contextualises our products without the need for costly lifestyle shoots or high street shops, which ultimately the customer would pay for. But more than that, Unboxed demonstrates 'collaborative consumption'—a movement empowering consumers to take inspiration from each other," commented Chloe Macintosh, Made.com co-founder and creative director. "Word of mouth has always been our most important marketing channel, and we see Unboxed as a great way to cultivate those conversations between our customers and their neighbours."