Reebok is releasing a new product, Reebok Bacon, developed just for those who belong to the CrossFit Community. The new product comes in a box featuring a pig in Reebok sneakers, and celebrates the 2014 Reebok CrossFit Games, which launched last week. Bacon perfectly fits into the Paleolithic diet that allows bacon as one of the best protein-packed indulgences loved by many Reebok professional and amateur athletes.
The new product perfectly syncs with the CrossFit nutritious philosophy as it's smoked, free of all nitrates, preservatives, MSG, and sweeteners. During the event, the Reebok Bacon Box (a food truck) will offer a range of servings that come as different bacon-wrapped items for each day. They include bacon-wrapped artichokes, bacon-wrapped chorizo-stuffed dates, bacon-wrapped seasoned pork belly, and bacon-wrapped carne asada and pepperoncini, plus there's also a secret item on the menu.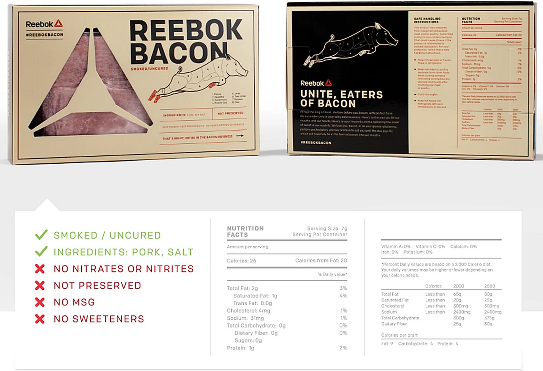 To add a gaming twist to the experience, Reebok will unveil a special secret menu online, offering its consumers a chance to win prizes. To discover more about the product and philosophy behind it, visit the product page on the brand's official website.
"In sticking with Paleo recommendations, Reebok Bacon is uncured and contains no nitrates, preservatives, MSG or sweeteners. Packaging in dry ice will keep the bacon refrigerated until recipients throw it in the skillet," says representative of the Venables Bell & Partners, the agency behind the product's design.