Australian bio-tech Starpharma is announcing a revolutionary condom that can dramatically reduce transmission of HIV virus as well as herpes and human papilloma virus. The new product that is to hit the shelves in Australia in the coming months, is coated with the special antiviral VivaGel that is said to kill 99.9 per cent of HIV along with decreasing the chance of pregnancy.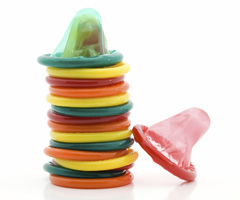 At the moment, the new product is getting the final ultimate permit—it has recently received a receipt of Conformity of Assessment Certification by the Australian Therapeutic Goods Administration and is to be launched soon.
The virus-killing VivaGel comes as a lubricant featuring 0.5 per cent astodrimer sodium, which is a non-antibiotic, antimicrobial component developed specifically for preventing HIV transmission. It's positioned as a "ground-breaking new sexual health product" that will help address the level of sexually transmitted infections.
Still, some experts argue the ultimate positive effect of using Starpharma's innovative condom. They warn that the anti-viral lubricant may cause "mild irritation and low-grade inflammation" which lead to skin breakage and, due to a complex biological reaction of the body, increase the risk of getting infected with HPV.