I was catching up on Glastonbury highlights with my youngest last weekend. Ed Sheeran kicks-off with Lego House and she joins in, "I'm gonna pick up the pieces, and build a Lego House". She then proceeds to tell me his latest album is the fastest selling of the year, with 182,000 downloads in a week! Knowing what I know about Sheeran made me think there's something about 'doing' that connects with people far more than 'telling'. Something brands could heed when they think about getting their story out there.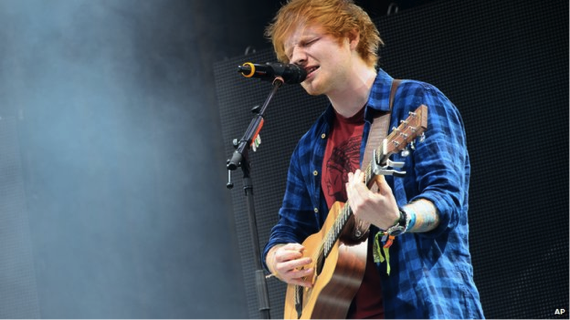 Sheeran himself is not an overnight sensation. Quite the opposite. He left home at 16 and by 18 he was doing 300 gigs a year. Nothing fancy—pubs, open mic nights, schools. This is 'doing' in the extreme. He toils, he creates, he plays and eventually at 20 he breaks through as someone original and genuine. A white, ginger kid who raps and makes 'acoustic soul'. His story is one of 'doing', not 'telling' a la X-Factor or The Voice. The fact he outsold Coldplay suggests 'storydoing' is the most effective way to build a brand.
Take action
So what sets the doers apart from the tellers in the brand world, other than the obvious 'do' thing? Number one, they aim to make a tangible difference in the world, not just their world. Toms and Warby Parker are good examples. Both operate business models that mean when you buy a pair of shoes or glasses from them, they donate a pair to someone in the developing world.
In the case of Warby Parker, this global responsibility has just helped the hip budget eyewear company pass the 1 million milestone. It shows that having a social mission, taking action and doing something to make the world better genuinely resonates with people, particularly Millennials who really value this sort of social innovation.
WOM
And the good news is people talk about what they care about, which is why storydoing brands do stuff that people will pass on through word of mouth. Even megabrands like Coca-Cola can still look for ways to achieve this. Given their size sustainability is a hot topic, and one for which they come under a lot of pressure. Their 'Second Lives' campaign gives empty bottles another chance by transforming them into 16 useful items, just with the addition of a screw-on cap. From bottle to bubble wand, thirst quencher to sauce dispenser, plastic to utterly fantastic.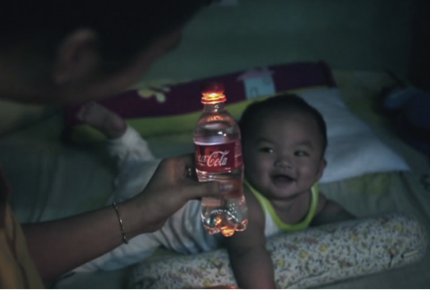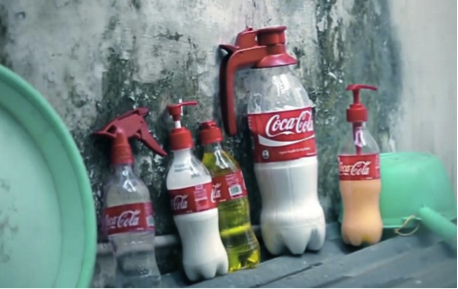 Instead of chucking their empties away, people in Vietnam will now be able to turn their bottles into everyday objects, including a paintbrush, a spray bottle, a pencil sharpener, a soap dispenser and even a lamp. Check out the video to see how all the caps are used.
Another example of doing from Warby Parker is their old yellow school bus. The company used it as a mobile store, travelling from city to city and earning a huge amount of media attention at each stop. Founder Neil Blumenthal estimates that 50% of traffic is from word of mouth and, as he says, a referral from a friend is far more valuable than a purchased impression.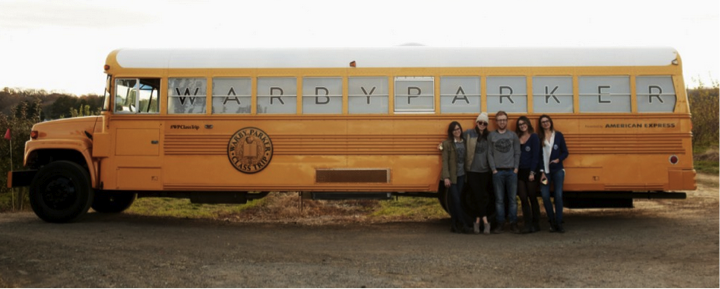 Of course, not everything you do has to be super worthy to spread like wild fire. Brazilian Kings of the Grill Tramontina recently released their BBQ Bible. Designed to promote their extensive range of luxury BBQ equipment, pages from the book can be ripped out and used to perfect your own garden grilling.
The first chapter contains a page made out of charcoal, a sheet of lighter paper and a page to help fan the flames. Chapters 2 & 3 contain an apron, foil paper, a sheet of salt paper for seasoning and even a page to sharpen knives on. Naturally, the front and back double-up as hefty chopping boards—definitely one book you can judge by its cover. See the movie below.
Daring deeds
Amazing people doing daring deeds can motivate the rest of us to do more, and do better. It's something along those lines that led Dave Hieatt, founder of Hiut Jeans, to create the Do Lectures. The idea is a simple one: people who Do things are invited to come and talk about what they've done, inspiring the rest of us to get off our backsides and Do things too.
These are no ordinary people though, more the disrupters and the change-makers. From the inventor of the World Wide Web, Tim Berners-Lee to Ed Stafford – the first person to walk the entire length of the Amazon – they arrive at a campsite in West Wales and share their rich and varied stories. Whilst practicality is nearly always the one thing missing from the conference and event circuit, the Do Lectures ensure that each speaker has to conclude their talk with a «Big Do»—a practical notion that the audience can take away and enact. So what could your "Big Do" be?
About the Author

Greg Taylor became founding partner in global brand design consultancy Elmwood in 1989. Now Director of Brand Provocation, Greg is the creator and facilitator of Step Change™, Elmwood's strategic tool for moving ideas forward. Clients include ASDA, Wal-Mart, Arla Foods, BBC, COI (Defra and DfT), Cable&Wireless, Comic Relief, Debbie & Andrew's, Durex, Glasgow 2014 Commonwealth Games, McCain, and the Met Office.