I turned the page of Grazia a few weeks ago to See Diet Coke's latest press advert, which was essentially an image of a naked male torso alongside the copy line: "There's nothing like a six pack to put a smile on your face", apart from it didn't.
And here's why:
Sex sells, we all know that, but I had thought the days of using scantily-clad bodies, be they of the male or female variety, with a "say what you see" quick and dirty copy line was behind us. We've got smarter than that and I had hoped fellow advertising folk had sharpened their pencils and their minds a long time ago.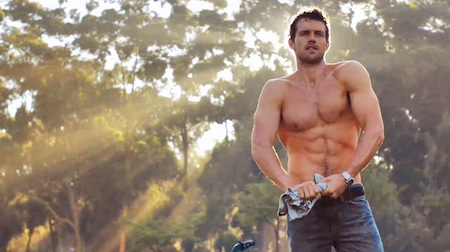 Let's start with Boddington's. The brand's "Cream of Manchester" ads of the nineties were genius. Did they have a hot chick? Yes. Did they feature a hot bloke? Yes. But they also oozed ironic wit—taking the p*ss out of other stereotypical ads while demonstrating Boddington's positioning as the no-nonsense, down-to-earth Northern brand that it is. And it worked. Not only did the ad agency take a brand that wasn't exactly a best seller out of the dusty and forgotten about bitter category, but the campaign also made Melanie Sykes a household name.
Move from the nineties to the noughties (or should that be "naughties"?) and you get the Lynx "Billions" ads. "Billions" I'm assuming, refers to the number of super sexy, bikini-clad women who run wildly and aggressively past each other to reach the less than average looking bloke covering himself in Lynx. The blondes came from one direction, the brunettes from another, the red heads swam in from the ocean. It was epic—a visual masterpiece, while using sex to sell in a smarter way, one that appealed to both sexes by use of comedy.
There is a place for gratuitous voyeurism too: perfume brands frequently celebrate the physical form in a highly stylised, sexual way that turns the advert into a piece of art, that is beautiful to watch while slick and demonstrative of incredible art and creative direction. Dolce & Gabbana's "Light Blue" ad with David Gandy getting steamy with a similarly stunning blonde model or Jean Paul Gaultier's many perfume ads are more like films than TVCs, the cinematography is absolutely incredible and the men and women that feature are like something out of a fantasy land of sexy gorgeousness. It sucks you in.
Now moving further down the timeline, you have Old Spice's "The Man Your Man Could Smell Like", which too uses semi-nakedness to sell, and it's equally brilliant. A send-up of a fit bloke selling aftershave. Very funny and very clever—the use self deprecating humour just works.
Now look at Diet Coke's recent work again and ask yourself what's missing? The creative idea, that's what's missing. While writing this piece I took the opportunity to re-watch the 1994 ad that really cemented the brand with the group of girls ogling the blue collar worker— "Diet Coke break" with Etta James' "I Just Want to Make Love to You" helping to make it one of the most memorable ads of the nineties. It was in fact one of the most memorable ads ever. While I watched it with a sense of nostalgia, particularly in remembering some of the throw back fashions of the decade, it really was a very basic execution and for that moment in time, it worked.
But the world has moved on.
This year Diet Coke has brought back "Diet Coke Man" (last used in 2007) to celebrate the brand's 30th birthday. Instead of using this opportunity to create something equally as iconic and award winning as the "white collar women ogling blue collar man", all the agency has done is create what looks like a cheaply produced version of the original, but with none of the charm. It stinks of lazy ad creatives— especially in the print execution and copy. No doubt it's from one of the biggest and most decorated advertising agencies in the world, but my god it's disappointing. From one of the biggest brands in the world, I for one expected a hell of a lot more.
About the Author

Joanna Davies is the Managing Partner at drink, part of the ZAK Media Group. She has over sixteen years experience in marketing, having held senior roles in both agency and client-side businesses. Tenacious, ambitious and entrepreneurial by nature, Joanna became Head of Group Marketing of a national leisure business at 25 years old. At 29 years old, she set up a leisure sector consultancy, which rapidly grew and developed into 'drink', an integrated marketing agency specialising in the leisure, food and beverage sectors.