GE, a multinational technology leader across several manufacturing industries, has launched a new marketing campaign placing the company at the forefront of the future technology.
The backstory of this effort is intriguing: 50 years ago a famous science-fiction writer Isaac Asimov made a forecast on the future technological advancements that the world would have seen by 2014. His assumptions, published by the NY Times, were based on what he saw at the GE exhibition at the World's Fair 1964.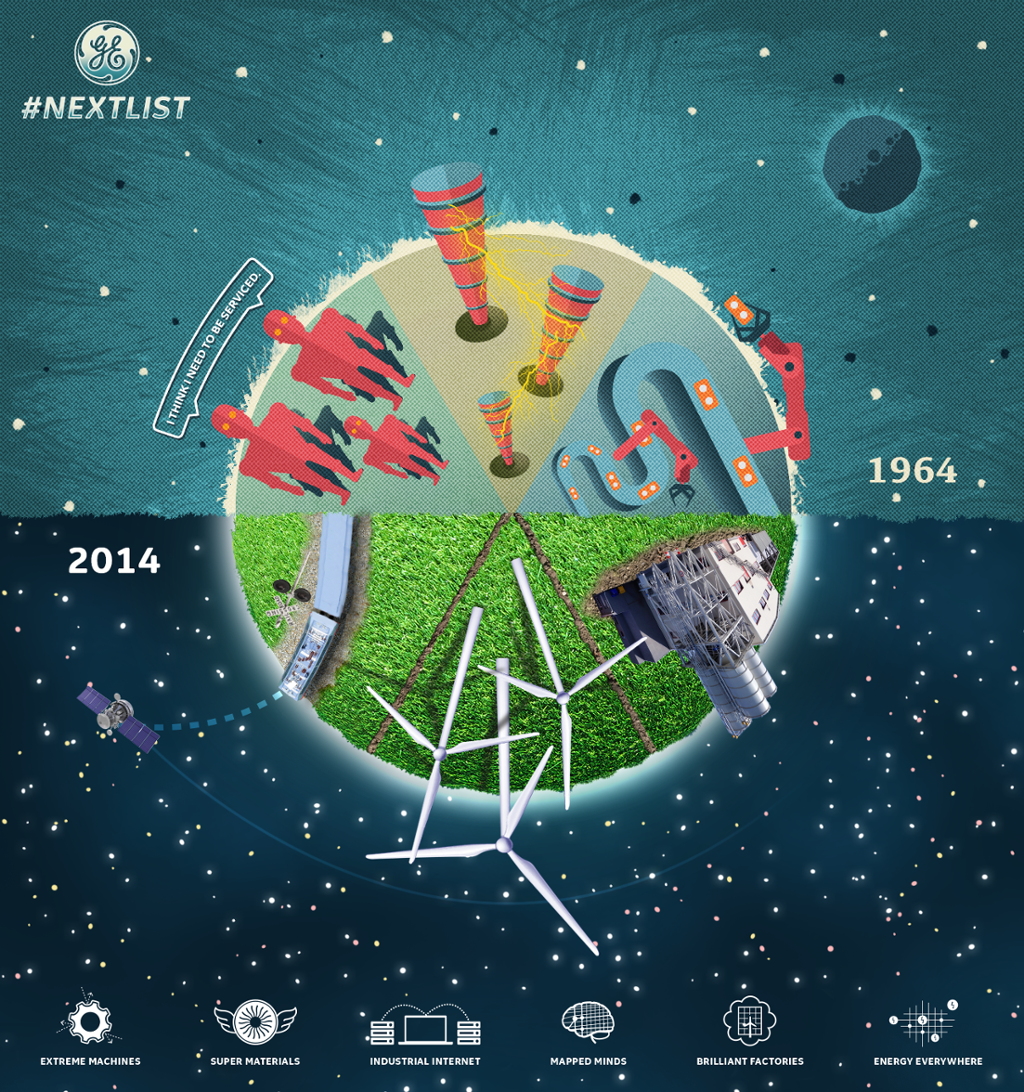 Inspired by this story, GE marketing team have decided to create the "next list" of future-changing inventions that the next generation might see in 2064. On the company's Tumblr blog, there's an interactive circular diagram that shows the technological progress with some cornerstone inventions from 1964 to 2014. The campaign "Next List" runs in the form of branded content partnership with Medium.com, and also on GE's social media platforms such as Facebook, Twitter, Google+, and LinkedIn. Everyone can share their own thoughts on the groundbreaking technologic innovations with the hashtag #NextList.
There are six areas of research on which GE's R&D department focusses most: mind mapping, extreme machines, Industrial Internet, data analysis, and new materials. Reports on the latest and upcoming research projects conducted by the company's labs can be read here. Among them there are development of the super materials used for latest gas turbines and next-generation jet engines, and the fuel cell.
The most recent half fun, half scientific project by GE's research labs is the collaboration with American electronic pop musician and DJ Matthew Dear, who recorded over 1,000 sounds from the world's most badass machines at GE's labs. Raw sounds like the GE jet engine and the GE subsea compressor were sampled and blended in a way to show the relationship between science and sound. Listen to the techno-track in the video "Drop Science" below: