The latest global survey conducted in July by the consulting firm McKinsey, reveals interesting figures on how and why sustainability is important to company's strategy and how successful companies are in mastering the reputation, execution and accountability of their sustainability programs.
The fact that sustainability is increasingly important to CEOs nowadays has become a common undeniable truth. But how to capture its full value? That's what Mckinsey survey is looking at, asking respondents to figure out the weakest and strongest points of their companies' sustainability programs.
One such point is reputation management. If back in 2010 executives used to say that reputation and cutting costs were the main reasons their companies addressed sustainability, now they say they want to align sustainability with overall business goals, mission and values.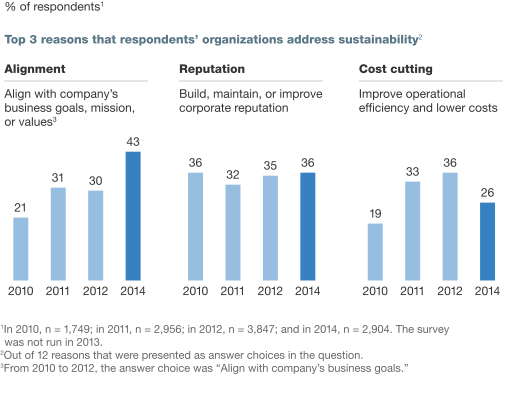 In 2010, just 3% of CEOs saw sustainability as the top-priority, now 13% say so (with 36% saying it is among top three priorities).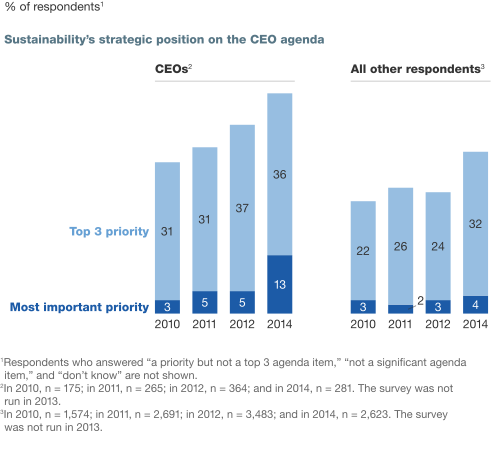 Next «big thing» is execution of sustainability programs. Among main issues respondents cite the absence of performance incentives and short-term earnings pressure that may confront the long-term sustainable goals. Accountability is also a concern. About one third of CEOs say that too few people are responsible for execution of sustainability programs.
Among core sustainability activities, respondents often cite reducing of energy use (64%), waste management (63%), internal reputation management (59%). Yet the results vary by industry, indicating that companies understand and value reputation in very different ways.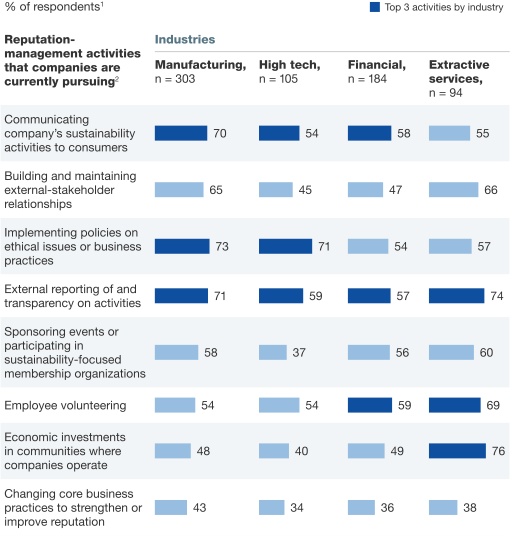 Regarding the financial value, 39% of respondents say that communicating company's sustainability activities to customers is important to maximizing company's financial value.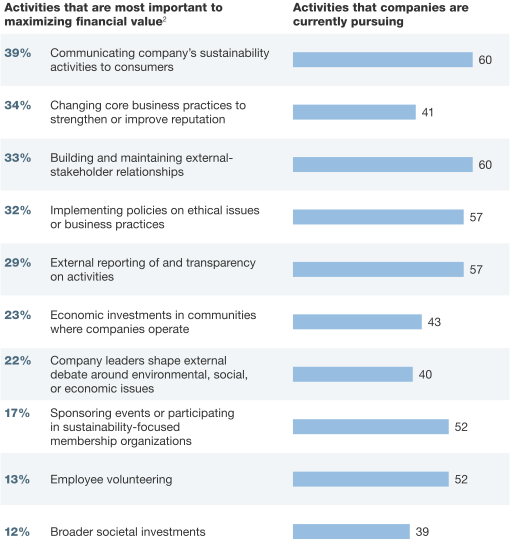 The influence of sustainability programs on creating the internal corporate culture and direction for development vary depending on the type of practices.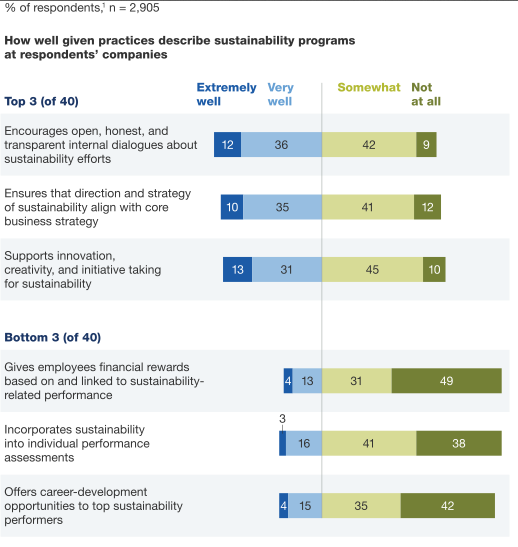 Conclusions that follow McKinsey's report are, as follows:
Companies should focus on "circularity" of their products — this will cut the costs on materials and potentially benefit the society;
Companies should integrate their technological capabilities into their overall sustainability agenda;
Companies should develop a strategy with no more than five clear, well-defined priorities.
More details on the McKinsey Global Survey results are available here.