With the boom of technology and the rising trend of sharing, crowdfunging nowadays is a proven way of raising funds on any viable and socially meaningful business idea. The renewable energy business is not an exception. Besides, it can be profitable!
The Dutch company Solarplaza, an expert in solar power industry and a namesake online portal covering related news, events and gathering all the stakeholders, have developed a map of crowdfunding platforms that target or have funded renewable energy projects.
The top 3 crowdfunding hubs, as Solarplaza team lists them, are:
1. Windcentral, The Netherlands.
The company specialising in windmills was launched in 2010 and has raised up to €14.3 million by now. Windcentral works with individuals who invest in windmills, becoming an owner with 7% annual ROI. Investors get about 500 kWh of energy per year and use it to power their households.
2. Abundance Generation, UK.
Officially launched in 2009, the company started operating in 2012 after having acquired an authorization from Financial Conduct Authority. Allowing to invest as little as 5 pounds, the company has raised €8 m for less than 2 years. The investors don't get benefits in the form of energy — they get real money (8.6% annually) as a percentage revenue or profit generated from the sale of the electricity produced by the project they've invested in.
3. Mosaic, USA.
Launched in 2013, the company has already managed to raise about €6m and is often referred to as a "Kickstarter for solar." Its business model is the same as the previous platform, Abundance Generation, suggests, while ROI is less—5%. There's a legal restriction: investors from the states of NY and California can participate at this stage only.
Below is a map featuring all other notable crowdfunding projects in the renewable energy sphere.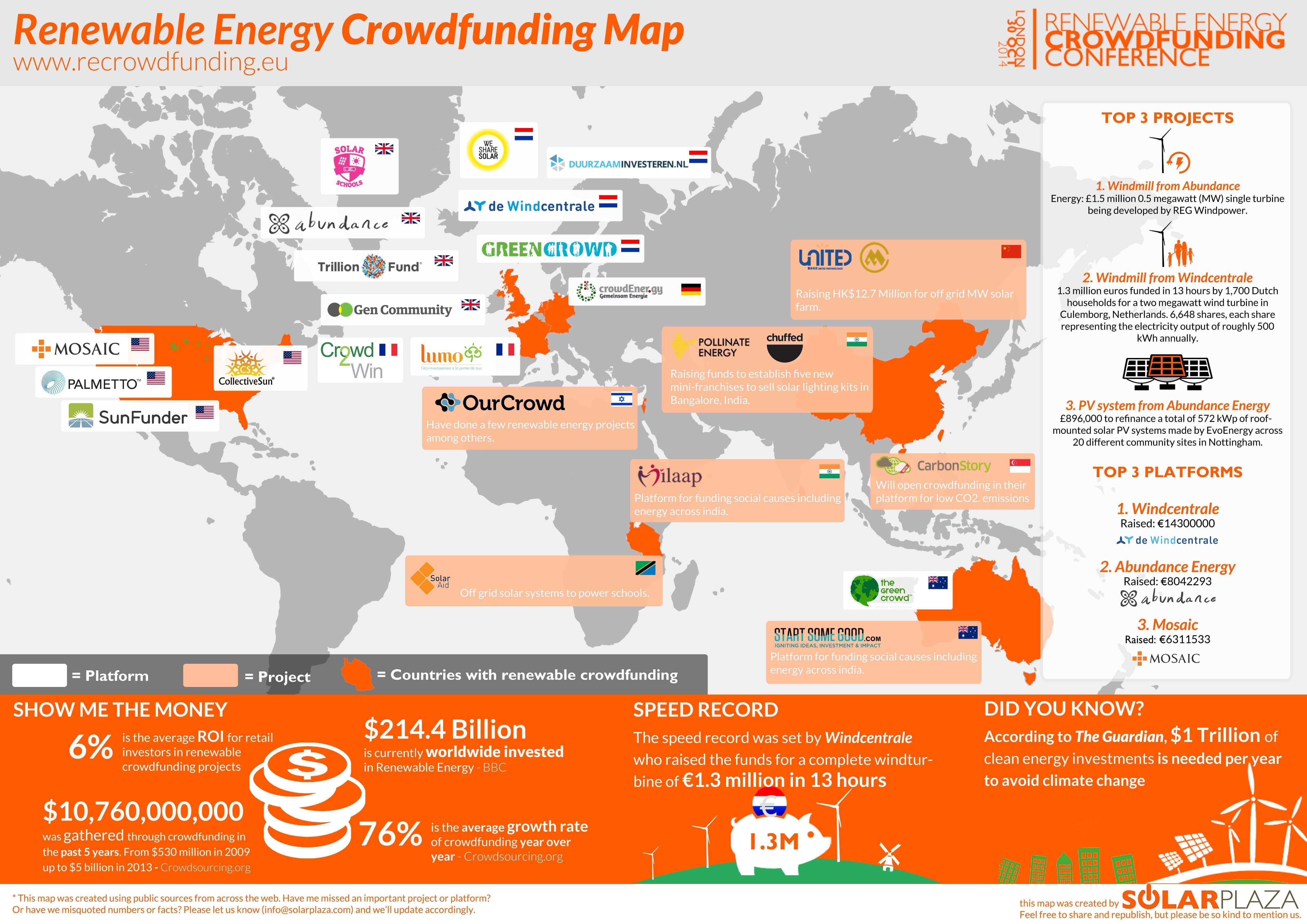 On October 30, Solarplaza will be gathering professionals at the Renewable Energy Crowdfunding Conference.