As part of its Sustainable Living Plan, announced earlier in 2010, Unilever is rolling out two eco-friendly retail solutions in NYC: a solar-powered ice cream freezer for outdoor sale and super energy-efficient cabinets for indoor retail spaces.
The company, which is the world's largest producer of ice cream owning in the U.S. such brands as Popsicle, Ben & Jerry's, Klondike, Breyers, Starbucks and Slim Fast, as well as more than a dozen of brands under its "Heartbrand" umbrella worldwide (Wall's, Frigo, HB, etc.), now operates nearly 1.5 million solar-powered freezers made of recycled materials that consume less energy, reduce the load on power grid and minimize greenhouse emissions from refrigeration that commit to global warming. These freezers can be managed via a mobile app that also tracks the performance data, location, energy use, etc. The company has been testing solar-powered ice cream cabinets since summer Olympics 2004 in Athens.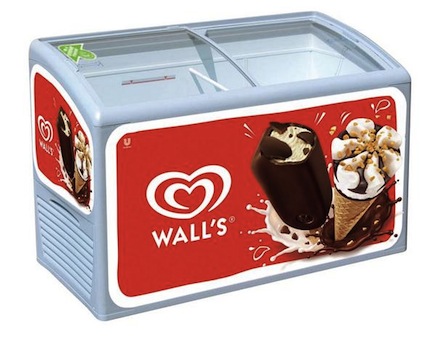 Another eco-efficient solution that has been trialed and constantly improved for almost ten years by now is retail hydrocarbon cabinets that use up to 70% less energy. Unilever calls this creation "the world's most efficient retail cabinets." The first HC retail cabinets were installed in Denmark in 2003 — they used 9% less energy than old FC (fluorocarbon) or HFC (hyfrofluorobarbon), which are to be replaced by the innovative ones by 2015.