UK breast cancer awareness nonprofit CoppaFeel, famed British photographer Rankin and professional typographer Alison Carmichael have teamed up for a project that aims to desexualise female breasts and pay attention to what this part of women's body should normally look like.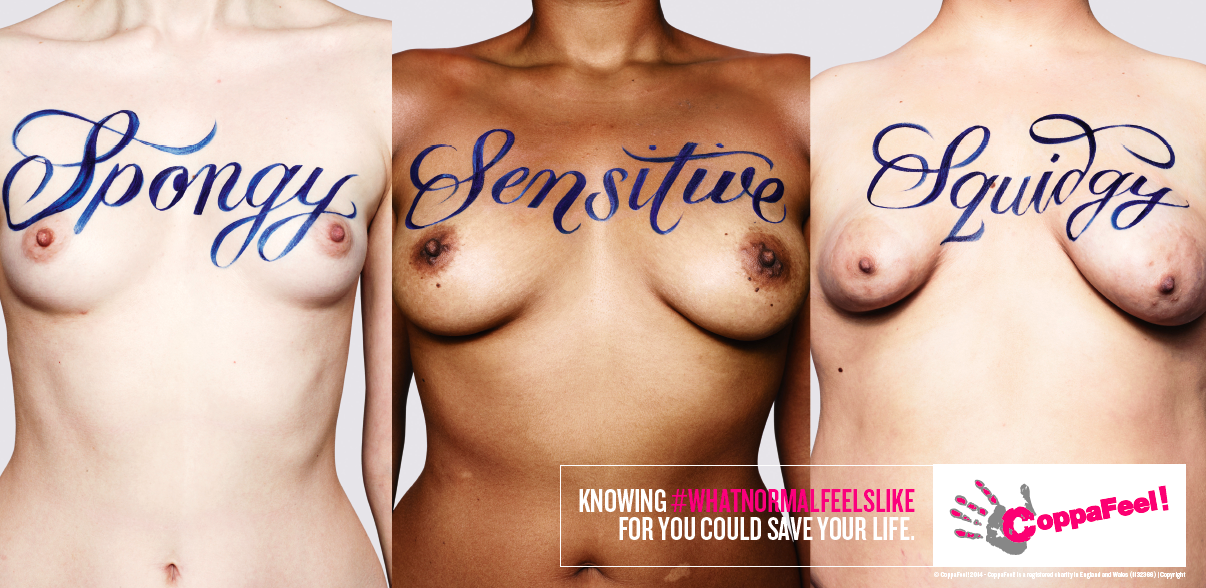 Rankin shot seven bare-chested women of different ages, whose body was painted with the word that described how they felt their breast looked like, such as: bobbly, doughy, firm, peachy, sensitive, spongy, or squidgy. These photos support a social-media campaign and experiential activities «What normal feels like,» executed by the agency Karmarama.
Kris Hallenga, the founder of CoppaFeel and breast cancer survivor, commented on this campaign: 'We want to make it normal for girls to talk about their boobs. Society and the media think of breasts in a sexual way but by creating this campaign we want to give boobs back to women and encourage them to think and talk about them in terms beyond size. The more normal it is to talk about boobs, the more likely women are to check themselves regularly and spot any changes early."
Kris was diagnosed with the final stage of breast cancer at the age of 23 five years ago. Read her story here.
Creative credits:
Executive Creative Director: Caitlin Ryan
Art Director: Laila Milborrow
Copywriter: Paul Pearson
Senior Planner: Matthew Waksman
Account Director: Harriet Belsey, Laura Vipond
Agency Producer: Amy Lonnen
Production Agency: Jelly
Photographer: Rankin
Typographer: Alison Carmichael
Media Agency: Mediacom
Board Director OOH: Gill Reid
Planning Manager: Richard Beecroft
Client Contacts:
Kris Hallenga, Founder
Jamie Clews, Brand Manager
PR Agency: Kaper
Account Director: Jenna Gifford
Account Manager: Julia Kenny