Last week, the online marketing intelligence service Warc.com published a trends report «Seriously Social» based on the data derived from 37 case studies that were shortlisted for the Warc Prize for Social Strategy 2014.
This in-depth analysis, carried out by marketing consultant and author Peter Field, aims to define the most effective social campaigns by finding a link between the volume and quality of the «earned media» coverage (i.e. social impact) and an overall business results of a brand (i.e. ROI or other core business metrics).
By «social campaigns» here the author doesn't imply any socially good causes or social corporate responsibility of brands, but merely a «marketing activity designed to generate conversation, participation, sharing and advocacy.»
The reports comprises of four chapters that look at (1) the types of social strategy; (2) comparative analysis of the so-called top-down (brand-generated content) strategies vs. bottom-up (user-generated content) strategies; (3) comparative analysis of the cause-driven strategies (with worthy social outcomes) vs brand-driven strategies (focused on branded commercial messages); (4) social drivers of business results; as well as (5) the role of social media in the social campaign's performance.
Here are the brief highlights from the report:
1. When devising a social strategy for your brand, think of two important factors:
  whether your strategy is based on a brand-owned content or on a user-generated content;
  whether your strategy is based on some worthy unbranded cause or some branded commercial stories.
Mr. Field introduces a comprehensive chart to help marketers define where their strategy lies.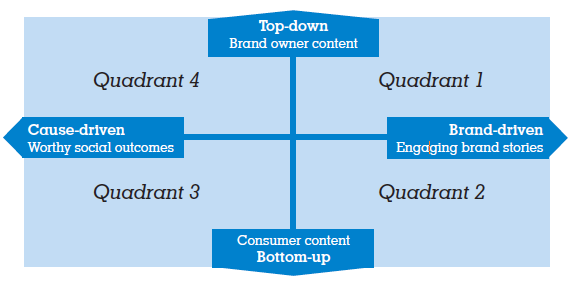 The most common social strategies for commercial brands, as he analyses, lie in the first quadrant. The second most common ones lie in the quadrant No 2. The third and fourth are more common strategies for not-for-profit brands that are, however, becoming an emerging practice for the «for-profit» brands as well. The 3rd and 4th types of social strategies account for only 17% of the analyzed case studies each.
2. When devising your social strategy, be aware that the so-called bottom-up campaigns need more time to gain momentum, thus they must make greater use of activation media to drive short-terms results.
In general, the research has revealed no evidence that bottom-up campaigns are any more effective than traditional top-down ones. They use the similar media, however, require different time span to drive results.
3. As consumers get tired of branded, commercial marketing messages, cause-driven social strategies are found to be more effective, especially in the long term. Moreover, they have a naturally longer life span. Despite the fact that brand-focused campaigns make a wider used of media, including traditional ones such as TV, they are rather short-term.
4. Social media can drive the effectiveness of a social campaign, however, as a long-term brand-building tool rather than a channel for a short-term activation. Sincere, emotional stories are the best creative approach to social campaigns, as to all marketing communications, overall.
5. Effective social campaigns must be multichannel. An optimal number of channels to promote a campaign is around eight, where social media should rather be a supporting, not a leading medium.
Warc and the report author Peter Field are organizing a webinar to discuss the findings of the research in detail today, Wednesday, October 29th at 3 pm GMT. Please register here.
The full version of the «Seriously social» report with the detailed analysis of the winning case studies is available to Warc subscribers only.
Next year's award The Warc Prize for Social Strategy 2015 is already open for submissions.