This year's ranking hasn't come as a big surprise for the business and branding circles. However, the 2014 report has revealed some new definitions and trends worth knowing: "Age of You,"  "Mecosystems,"  and GAFA brands.
Last week, the New York Stock Exchange saw the award ceremony and the presentation of Interbrand's 15th annual report and ranking «Best Global Brands.» As in the previous year, the top five most valuable brands remained the same: Apple ($118, 863 m), Google ($107,439 m), Coca-Cola ($81,563 m), IBM ($72,244 m), and Microsoft ($61,154 m). The only brand that fell out of the 2014's top 10 list and shifted from 9th to 12th position was Intel ($34,153 m).
Traditionally, automotive (14) and technology brands (13) dominate in the list, while Coca-Cola remains the only FMCG brand with the highest «brand value.»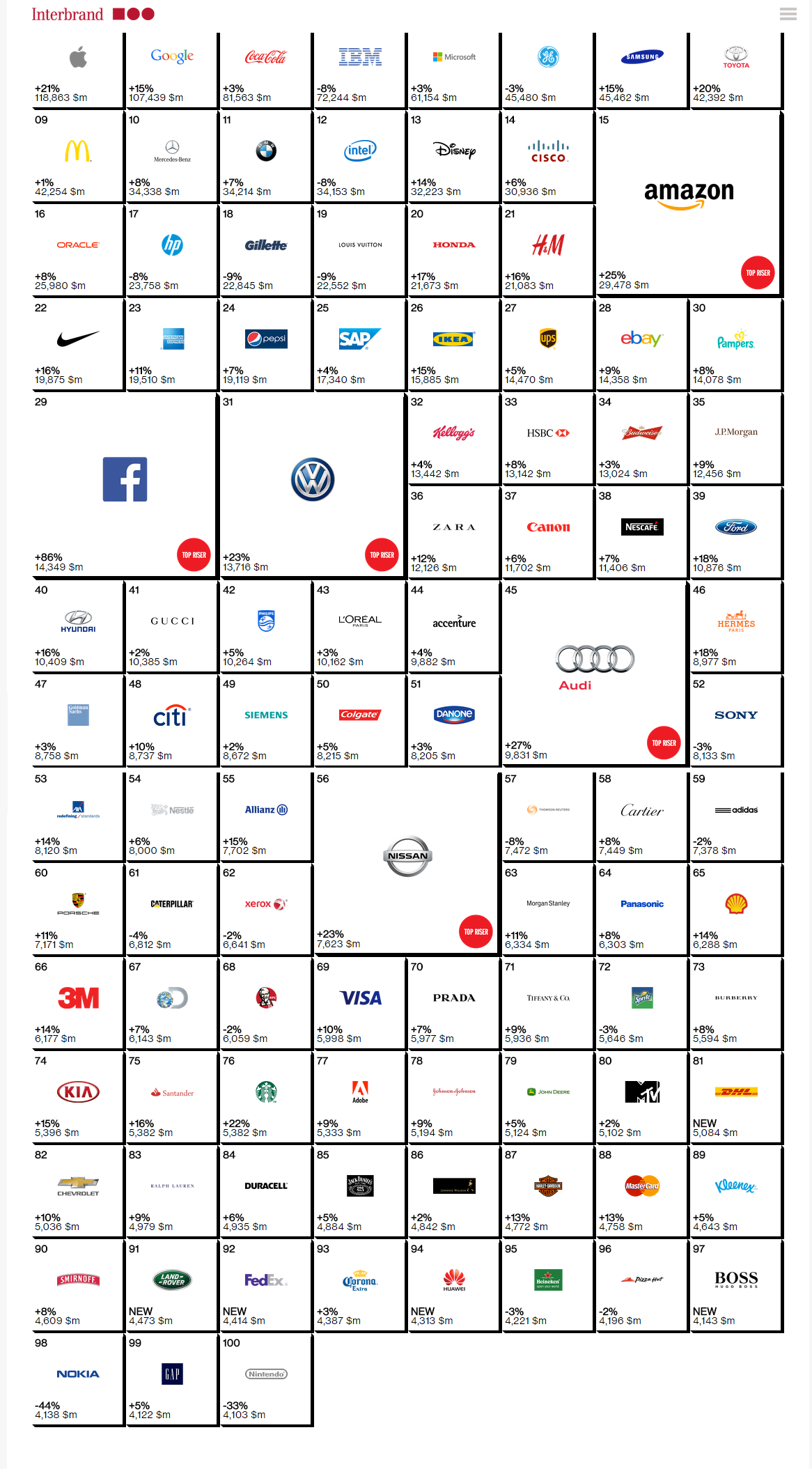 Among the top risers are Facebook (+86%), Amazon (+25%) and the three automobile brands: Audi (+27%), Nissan (+23%) and Volkswagen (+23%). The brands that have lost in brand equity most considerably are Nokia (-44%) and Nintendo (-33%), while the brand value of Gillette (-9%), Louis Vuitton (-9%) and technology corporations HP, Intel and IBM (each -8%) have decreased due to different reasons by less than 10 percent.
Newcomers to the Interbrand's «Best Global Brands» 2014 list are DHL ($5,084 m), Land Rover ($4,473 m), FedEx ($4,414 m), Huawei ($4,313 m) and Hugo Boss ($4,143 m).
Interbrand published the annual ranking based on a methodology that analyzes data from Thompson Reuters on financial performance of brands, as well as data from Datamonitor to assess the role of the brand in purchasing decision, along with data from Twitter to learn the consumer feedback and attitudes.
Additionally to the ranking itself, the 2014 report contains some worthwhile trends that the Interbrand team has spotted recently.
The «Age of You» is seen as the fourth stage of branding's evolution: from the Age of Identity, to the Age of Value, then to the Age of Experience—to the Age of You, a new era of ubiquitous personalized wearable computing that connects individuals and businesses in a fully integrated «mecosystem»—the ecosystem with YOU in the heart and GAFA brands at your fingertips.
GAFA is an abbreviation for Google, Amazon, Facebook and Apple—the four brands that «exemplify platform thinking at scale.» GAFA brands also share an identifiable trait-a log-in that provides access to a personalized ecosystem of offerings within a single branded space.
To find out more, read the full report here.