The day before the Global Advertising Summit in Moscow that took place October 9-10 under the support of the Government of Moscow and the oldest advertising trade organization IAA, we talked to the two global managers of IAA — Faris Abouhamad, the World President, and Michael Lee, Managing director. Konstantin Mayor, the owner of the leading Russia's media company MAER GROUP, that is one of the Summit's media supporters, also joined our conversation.
We discussed the newest mission of advertising and popular industry misconceptions, talked about IAA's expectations in Russia and global media trends, as well as the importance of professional marketing and advertising qualifications.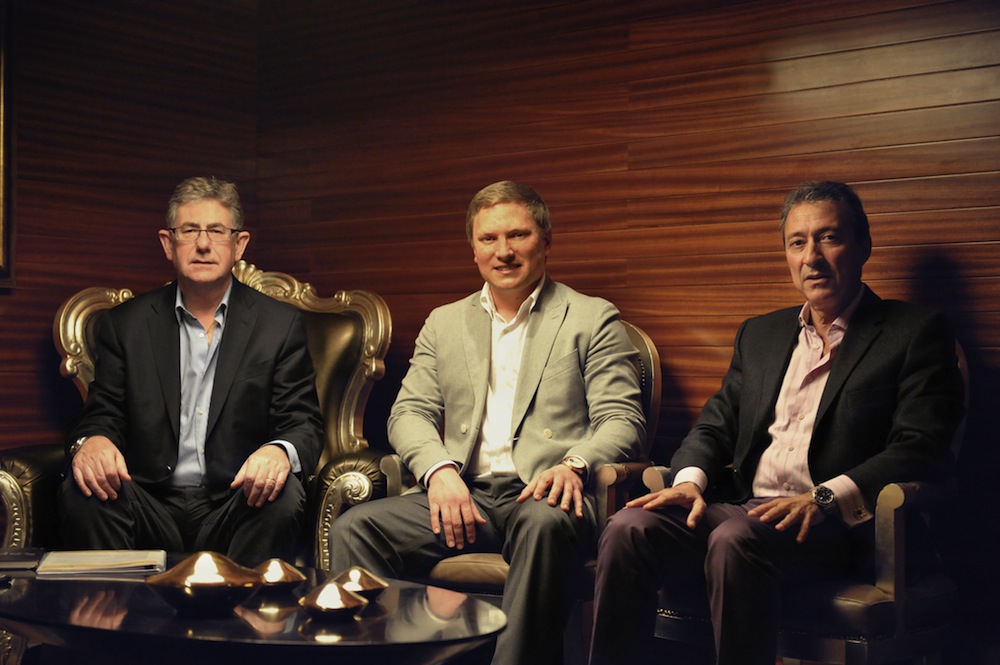 Popsop: Michael and Faris, you have been in the advertising and media industry for three decades. Have you ever been bored or disappointed with the advertising industry, with its mission and actual impact on global citizens? 
Faris: I've never felt bored or disappointed, not a single day. Advertising has always been my source of inspiration, my fuel that keeps my inner engine work and move forward. Of course, there were days when I thought there were some other industries that grew faster or were more flourishing. But at the end of the day, advertising was, still is and will continue to be a vibrant, growing business that also keeps us entertained.
Michael: I've never been bored, and my background is in media primarily. The advertising industry never stands still. I started working in the media sales in 1976 and every month brings new challenges. I think that the advertising industry offers a tremendous career path.
Popsop: When you speak about the advertising as an industry, do you refer to it as to a "driver of sales", which is Ogilvy's classic definition of the advertising and its mission from 1960-s?
Faris: I would go to a larger definition. Advertising is a driver of economic growth and investment. Every time we spend an advertising dollar, we see that the economy grows at least at GMP (gross metropolitan product) level 6 times. So, if we invest $1 billion dollars as an ad spend, we contribute approximately $6 billion to GMP. So I view advertising as more of a macro economic term.
Michael: In regard to Ogilvy's definition of advertising, I think this industry has become more of a knowledge driver, a driver of information and employment—there are so many bigger economic elements to it.
There are misconceptions that still exist about the advertising industry, particularly in some parts of the world. There's a notion that the advertising industry drives excessive consumption and waste—I think,  historically, it might have had some level of accuracy in certain areas, but I think there's plenty of examples showing that responsible advertising and responsible consumer ecosystem are very focused on not having waste and make sure that products are created in a sustainable manner—that is very important development in the advertising industry.
Popsop: Two weeks ago, there was a controversial case at the CLIO award ceremony in New York City, when receiving the award, the American comedian Jerry Seinfeld said: 
"I love advertising because I love lying. In advertising, everything is the way you wish it was. I don't care that it won't be like that when I actually get the advertised product. I think spending your life trying to dupe innocent people out of hard-won earnings to buy useless, low-quality, misrepresented items and services is an excellent use of your energy." 
Are there many people in the industry who share this opinion?
Michael: I wouldn't take his worlds seriously—he's a comedian and an actor. I think he said that just to generate media buzz and make headlines. I think it is rather cynical and lacks details. I'm sure there are people in the industry who share this opinion—there's nothing wrong with it. However, it's not accurately at all to label the entire advertising industry like that.
Popsop: IAA is one of the organizers of the Global Advertising Summit in Moscow. What is IAA's mission and expectations in Russia? Especially, taking into account rather unfavorable macro economic and geopolitical circumstances?
Faris: We always see Russia as one of the major players of the word economy, even irrespective of the latest geopolitical situation—I wouldn't want to involve myself into a political debate. Our mission in any part of the world is to promote value of advertising for business and market economy, as well as the freedom of commercial speech in our industry. Even in the times of recession, for example, the latest financial crisis of 2008, companies continue to sell products or services, people continue to consume and we continue to promote our industry.
Popsop: Why are there so many Moscow's government officials among the speakers, while actual advertisers are barely present, if any at all?
Michael: We as IAA were not responsible for every single piece of content for the conference. What we were asked to contribute to was an overall insight on what's going on in the international advertising community. Faris is going to make an opening speech on EMEA tomorrow. I will give an update on the industry trends in terms of migration of media investment in different platforms around the world. One of the things that we'd like to say is that IAA is a sort of the advertising speedometer, and the speed is not the same everywhere.
I think it is valuable that some high-level government officials are participating in this event, so that we have an opportunity for an open dialogue with policy makers.
Konstantin: Yes, government officials will be presenting at the event. And this clearly shows how the government is open in dealing with the media industry. The advertising market of Russia has entered in the next stage of its development, so this dialogue is needed to solve topical problems of standardization and legislative regulation in the industry. As a leading specialized company on the Russian market,  we are ready to broaden the opportunities for collaboration, set new trends and provide new perspectives by applying our international experience and strong partnership relations with IAA.
Popsop: So what will be on on your agenda?
Michael: Some topics that we expect to discuss are megacities, sustainability, self-regulation in the advertising, some trends and development that we see in other parts of the world.
Popsop: What would be the common media and consumer trends in megacities?
Faris: The first obvious global consumer trend is an international migration of population from suburban areas to the cities and overall growth of megacities.
Popsop: But hasn't this trend been around for years?
Faris: Of course, but it continues to grow. It is expected that by 2030 about 70% of the world's population will be living in big cities. We will witness small cities becoming megacities. Of course, this trend poses some challenges on the city governors, such as urban planning, public transportation, infrastructural issues, visual communications within the city. We've seen the growth of digital out-of-home advertising, new safer digital security signs on the roads.
Konstantin: Digital outdoor advertising and informing could be useful in the city not only for security reasons. First of all, the amount of information that the digital media can deliver is substantially larger, than that in classic billboards. There comes the second advantage – the economy of space in a megacity. Finally, the quality, durability and weather resistance of digital media is paramount when compared to standard solutions. Besides I would add that the interactive format is more aesthetic and provides a lot more ways for crafting advertising messages,
Popsop: I suppose you attended the previous IAA event in Moscow back in 2010? The Congress in Kremlin?
Michael: Yes, I organized it.
Popsop: When I attended the event, it felt like an old-school Sovietish congress—in atmosphere, menu choices, and overwhelming security scrutiny. Hardly can I imagine similar approaches in organizing American or European conferences. How does it reconcile with the vibrant nature of the advertising industry?
Faris: I'm sure there's nothing surprising in the fact that you need to go through a thorough security check for an event held near the government buildings or Presidental residence. For example, if we planned an event in Versailles in Paris, we would organize all the process in terms of security in the same way as we did in Kremlin back in 2010.
Michael: If you hold an event in the close proximity to the government offices, or if you have high-level officials attending the event, an increased level of security is just the fact that we have to live with. We just held the Congress in Beijing and it was the same level of review of journalists' applications. In the case with Kremlin, we had more than 700 international delegates from 40 countries, within 500 meters from the office of the President Medvedev at that time, so security was perfectly understandable. I can only say that the feedback from our international guests was very positive.
Konstantin: I totally agree with Michael as long as I attended this year's event in China too—I was presenting MAER GROUP's latest projects to the international advertising community. Regarding the upcoming Moscow Summit, as one of the even't partners I can say that it's going to be more democratic in terms of all procedures because the venue has been changed.
Popsop: Let's talk about the global ad spend trends and figures. As GroupM has calculated, global ad spend in 2014 will reach $534 billion—a 4.5% increase over 2013. The agency predicts that the ad spending will increase 5% in 2015. How would you explain the positive ad spend dynamics over the past 5-7 years irrespective of the global recession? 
Michael: We have another report from ZenithOptimedia, some slightly different but more or less the same figures. The new advertising dollars are coming due to new technologies, new growing channels such as mobile and tablet. New smaller companies that have never thought of advertising and used to connect with customers in other ways were another factor of growth. If you look at the overall growth by regions, Europe is flat, USA is up slightly, Latin America continues to do well. Asia (except Japan) shows 15% incremental growth, Africa is also rising, but on a very small base. And the trend of Russia is from flat to down in the current situation.
Faris: Another factor that adds to continuous media spend growth is the increase of average consumer spending due to the growth of the middle class, especially in the developing countries.
Popsop: Konstantin, what were the main factors of continuous growth of media spend in Russia ?
Konstantin: First off, the advertising market of Russia is relatively new, it's just 23 years old. The fastest growing advertising platforms are digital— both web, mobile and social media. We've seen that even out-of-home advertising goes digital these days. The volumes of ad spend in Russia in 2014 by platforms, from biggest to lowest, has been split between TV, Internet, outdoor advertising, print press and radio.
Popsop: What industries use digital outdoor advertising mediums such as interactive billboards in Russia, primarily?
Konstantin: Those are the major companies in premium segments who are after strong brand awareness and brand image. Digital billboards are also a choice of the advertising service providers in this segment—it helps them better communicate their specific focus and expertise.
As a result of our work, this format is becoming popular not only in Moscow, but in other major Russian cities such as Ekaterinburg, Novosibirsk, Kazan, Krasnodar and Nizhny Novgorod.
Popsop: What do you think about professional education in advertising and marketing? About two years ago I spoke to the CEO of a big London-based marketing agency RMP, who said "You don't need to have a special degree to work in advertising or marketing — anybody can do that job." Do you agree?
Michael: Broadly speaking—yes. But it's interesting that the advertising industry now attracts more mathematicians and cognitive behaviors scientists than ever before. The skills that are important is having an overall discipline that is drawn from a formal school or university; the ability to think of multiple tasks at the same time; to have superior communications and writing skills—this is absolutely vital; to have an inquiring mind. That's what everybody wants to see now in new people coming in to be on the team. I think if you are hard working, well disciplined and smart—yes, you may not have a specialized marketing or advertising degree.
Popsop: In Russia we are seeing a growing demand from young people for the creative or marketing professions. That's why there are dozens of some newly established private schools, as well as numerous courses such as WordShop, IKRA, Digital Branding etc. 
Can the quality of the knowledge they provide compete with some academic degrees from recognized universities?
Michael: I think one of the challenges of the academia is that the advertising is moving so fast that it's very difficult for course curricular to keep up to that speed, with what's going on. So if you are in a formal academic environment, where course work and course projects are made out years in advance, it's difficult to adjust quickly enough. I think that students studying advertising at colleges and universities may have some gaps in the information they are taught because of that, even in such countries as the US or the UK.
Popsop: Does IAA offer any type of training or collaboration for international students? 
Michael: We have some programs for international students with a number of world's universities that are IAA members. Some regional chapters have programs for postgraduate students. We also have trainings and undergraduate programs—we are hosting one of them in Dubai next month. Will have around 100+ students for a 2-day educational event called IAA Apprentice. Those young people will get to know how it feels to work in the advertising industry, how to get a job in this field, what to expect when you got a job. This is the second time we are hosting this event—and we've got a tremendous feedback from both attendees and professionals participating in it. We plan to roll out this type of event to other regions of the world.
Popsop: In conclusion, do you believe that advertising and branded media communications influence people's wellbeing? 
Faris: Advertising offers to consumer the freedom of choice. So yes, it has a certain degree of influencing the wellbeing, behaviour and lifestyle. Advertising and media communications are trumpets for some information. And they should be trumpets for truth. Overall, it is a debatable topic with different angles to it.
Michael: I'm afraid of being mistaken regarding the ownership of this quote, I guess Jeremy Bullmore, the former chairman of JWT in the UK, once said: "Good advertising sells a bad product only once". That's what I think on the influence of advertising on wellbeing.
About IAA
IAA is the oldest international not-for-profit trade organization for the advertising industry founded in 1938 in the U.S. One of IAA's mission statements is to promote "the critical role and benefits of advertising as a vital force behind all healthy economies and the foundation of diverse, independent media." The organization is funded through membership fees of different levels and has got 56 local chapters around the world.
About the Interviewees
Faris Abouhamad has been Chairman and World President at The International Advertising Association since 2013 and the IAA Vice President and Area Director for Middle East and Africa since 2010. He combines his roles at a not-for-profit organization with running an advertising company Interone Resonance Middle East LLC in Dubai as Managing Partner and founder since 2010.
Michael Lee is the Managing Director of IAA. During his career in IAA he held the positions of chairman, world president, senior VP, and executive director for over a decade. Since 1990, Mr. Lee has run his own business Lee & Steel, which specializes in international media sales and consultancy.
Konstantin Mayor is the CEO of the media holding MAER GROUP. Founded in 2003, the company has become the leading outdoor advertising provider in Russia. Today, MAER GROUP focuses on original advertising media, featuring media facades, rooftop media constructions, big screens etc. The company employs their own advertising structures in 30+ Russian regions. MAER GROUP is one of few IAA members among Russian media companies.