As the year 2014 is gradually coming to an end, we look ahead to 2015 and keep questioning ourselves: what will be "hot" for consumers next year? And how can we as marketers capitalise on that?
The research consultancy Mintel yesterday shared their insights on the upcoming consumer trends in the UK for 2015. Predictably enough, they are: (1) boom of smart wearable tech, (2) interplay of online and physical shopping in the high street, (3) growing consumer awareness of their rights and corporate misbehaviour, as well as (4) awareness of hazardous impact of the toxic industrial pollution on health.
 Smarter everything, more self-centric you
Although this trend has been around for at least three past years, Mintel predicts next year we will see a growing consumer demand for and interest in different smart devices—from personal wearable tech like glasses or wristwatches to smart housing tools like app-controlled appliances.
Why do we need all this? Researchers say smart devices save our time, promise convenience and control, and—what's more important in our digital self-centric age—smart tech promises self-tracking and deeper self-analysis.
Going beyond the creation of smart products, the leading tech companies such as Apple, Google and Samsung also develop ecosystems for easier housing.
For example, Apple's Homekit app enables users to manage lighting, doors, thermostats and other appliances through Siri voice commands on any modern Apple device. The rival Samsung is releasing a SmartHome open-source system managed through Siri-like S Voice software that does more or less the same. Another competitor Google-owned manufacturer of connected thermostats and smoke detectors Nest has developed its own ecosystem Thread to allow several smart housing devices to "communicate."
However flourishing the trend of smart housing seems, it raises serious security concerns. A recent BBC investigation has shown how vulnerable most of smart devices are for hacking, that's why (among other reasons) some national providers such as Sky and Virgin are developing their own secure synced leisure and home appliance systems.
As for some noteworthy new launches of smart connected or wearable devices in 2015, Mintel lists the following products:
Google's Android TV
LG's new smartphone Flex 2, a new foldable tablet and a new weOS for smart TVs
Lenovo's new wearable device (to be presented at CES 2015)
oPhone "scent messaging" device
Ralph Lauren's Polo tech shirt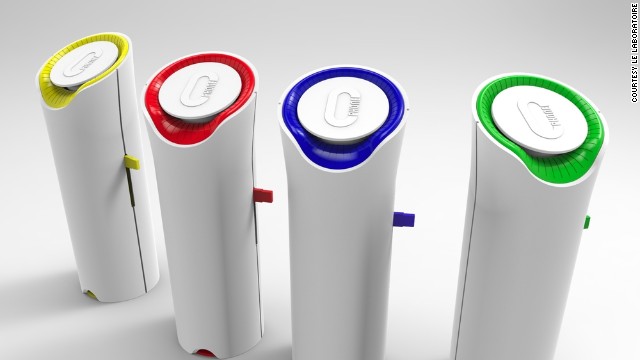 Regarding the rate of adoption of wearable tech in the UK, it is not yet too high but has greater potential. View the results of Mintel's survey below.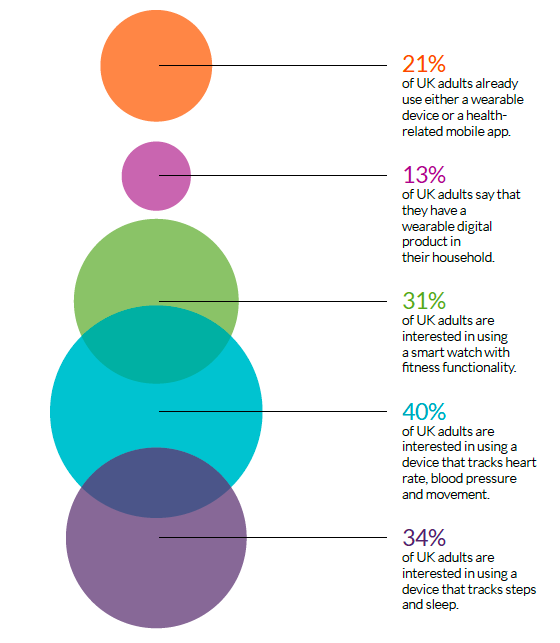 The line between purely online and physical shopping blurs
In 2015, Mintel expects that around 17% of all Internet retail sales to be collected by customers—up from 15% un 2014. This sets (and continues) a click-and-collect trend in shopping, making retailers further improve this specific shopper experience. There are already a number of click-and-collect (C&C) services across the UK that are expected to become even more sophisticated:
Amazon's lockers across London Underground railway stations;
Doddle pop-up parcel collection stores at 13 UK railway stations;
Waitrose chilled food lockers;
Asda and Tesco C&C vans;
Argos food lockers (to appear in 2015);
Westfield and ASOS changing room pods (in a trial mode in 2014).
Below is some data on the rate of adoption of C&C services in the UK:
Over a third (35%) of UK respondents have used them in the past year;
64% say they will shop online more because online retailers offer C&C services;
58% say C&C services encourage them to visit online store more frequently;
60% say the use C&C for a smaller, easy-to-carry purchases;
80% agree that when shopping online it is difficult to say if clothes will fit;
50% (and rising to 57% of women) say the hassle of returning goods through post is the main barrier to buy online;
53% say they would like drive-though points that offer C&C services from a number of retailers;
23% say an option to deliver to a store to try on before buying would encourage them to buy more online.
 Consumers are aware of their rights and ready to fight for them
The topic that is never off the radar—human rights, and particularly, consumer rights are again in the trends spotlight. Numerous false or decisive statements by businesses and sometimes even government have led to lack of trust from consumers. For example, when it comes to banking, only 46% of UK bank clients believe that their bank offers them a fair deal.
Here are some more facts about UK consumer conscious choices and beliefs surveyed by Mintel:
24% say that negative press coverage (e.g. tex issues) put them off visiting Starbucks
79% of shoppers say a company's returns policy influences their shopping
44% say that ethical treatment of workers influence their shopping choices
33% say that environmental policies influence their shopping choices
The US consumers tired of corporate malpractice and disillusionment are also upon the watch:
31% US respondents that are businessmen say that large businesses motivate them to be a better small business owner
18% of 19-36 year old consumers make "politically motivated" purchases, for example, consciously buy from brand that support LGBT community
The Mintel team calls this consumer trend "buydeology" and predicts it will continue in the form of open protests or silent boycotts. On the other hand, this trends drives growth of more smaller responsible, fair, consumer-faced, transparent, philosophical local businesses.
"Toxic avengers"
Consumers are against industrial pollution—but not only for the sake of "nature" as it used to be years ago, but for the sake of their own health and wellbeing, influenced and closely linked to major environmental concerns such as climate change/global warming, water and soil contamination, as well as "urban dust," or "PM 2.5— fine particulate matter," an air contamination with asthma and heart attacks.
Traditionally, big businesses are associated with the main source of air pollution, so it is not surprising that a majority of UK consumers (76%) pay close attention to the ethical and green credentials of products. Some of them are embracing apps that scrutinise a product's environmental credentials. Mintel expects this concept to grow in 2015 not only in the clothing/skincare segment but in the food and beverage market as well.
The full 18-page report "Mintel Consumer Trends 2015" can be downloaded for free here.