The US research company L2 ThinkTank, a provider of business intelligence for digital, has revealed the latest installment of its Digital IQ Index study devoted to beverages in the US. The research quantifies and ranks the digital performance of 54 non-alcohol drinks and beer brands across four areas: website, digital marketing, social media and mobile.
The methodology is based on quantitative research on more than 850 data points using online tool that tracks real-time global performance of some particular brand versus more than 3,000 consumer brands across the globe on social platforms. Scores are assigned to each effectiveness parameters (such as technology, navigation and site search, e-commerce and checkout, traffic, SEM, SEO, display, retargeting, email marketing tools etc) as benchmarks—in comparison to other  brands participating in the research.
The agency offers five levels of digital competency in the Digital IQ ranking: Genius (140+ scores), Gifted (110-139), Average (90-109), Challenged (70-89) and Feeble (< 70).
Below is the ranking of top performing beverage brands in digital in the US.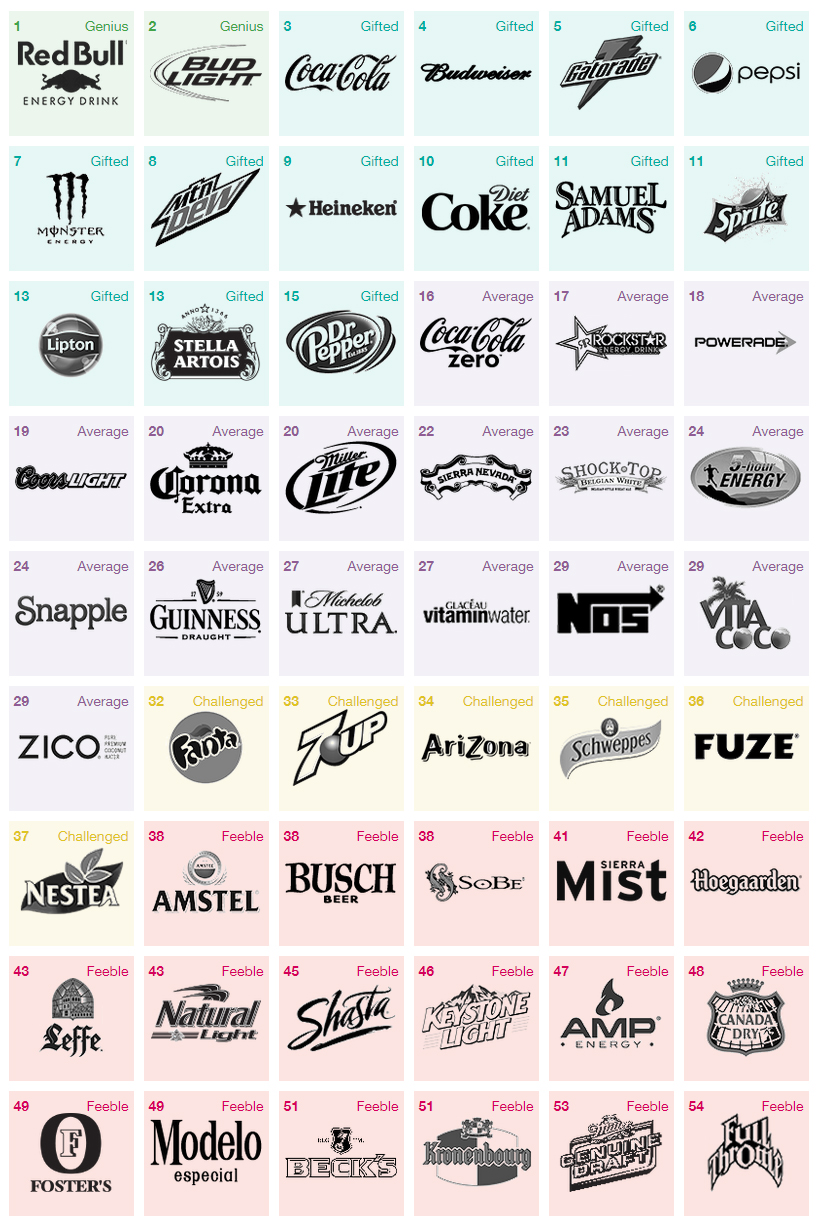 Some findings from the study are, as follows:
Beverage category shows one of the lowest levels of customer loyalty: around 40% of global consumers are likely to switch to other nonalcoholic or beer brands. Only about 33% of those beverage brands who have CRM capabilities, encourage purchases through transactional loyalty programmes.
Percentage of online purchases in the beverages category is low and equals to just 1% of all online grocery business volumes (with $600 billion according to Business Insider).
Beverage brand underestimate the potential of email marketing. Although 70% of the surveyed beverage brands offer email subscriptions, almost 50% never follow up. The category average is just 0.27 emails per week, while Specialty Retail category sends around 3-4 emails a week on average.
Beverage brands are heavily investing in social media. 98% of the surveyed brands (all but Full Throttle) have Facebook pages; 98% maintain a YouTube channel; 94% are present on Twitter; 89% are on Instagram.
Beverage brands seem not to embrace mobile as avidly as other categories of brands. Although 63% of them have adopted their site to mobile devices, only 17% have implemented a tablet version. Only 41% of beverage brands offer an option to find closest retailers with a smartphone, and only 25% of them offer geolocation service.
The full report on Beverages 2014 is available to paid members here.