Consumer brands are known for tapping bands or popular solo musicians to front their yet another short-term marketing stunt or to become their «brand ambassadors» as part of a longer term content marketing strategy. But does this yield some non-material benefits for brands beyond immediate sales figures? And does it influence artists' musical careers beyond pouring some hard cold cash into their creative endeavors? 
To shed light on how the brands+bands formats of collaboration have evolved, the music partnership experts FRUKT together with the music industry analysts Next Big Sound have conducted an in-depth research «Brands & Bands: The Value Exchange,» outlining the brand building value for both brands and musicians, as well as the value of earned media and influence of partnerships on artists' career.
So, the three dimensions of the brands+bands partnership evolution are, as follows:
1. Music partnerships transcend one-time deals for the sake of quick profit—for artists and quick sales—for brands.
Commercial music is more of a business, not art, where sponsorship deals with big brands can bring quick considerable revenue that most often may even exceed gains from downloads, streaming or ticket sales. However, the value for both parties beyond money becomes so obvious that some artists even refuse from fees, if a brand match is promising. That was the case with Bruno Mars performing for NFL during the 2014 Super Bowl for $0. Although he didn't earn anything directly, he got a $96 mln worth earned media exposure for a 12-minute singing — probably, next year NFL will even start charging artists for such a great marketing opportunity for them.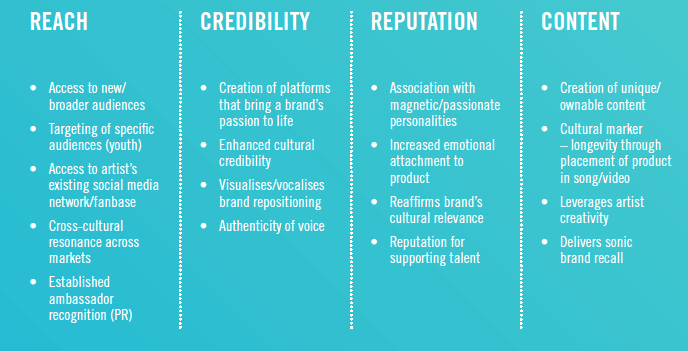 "Artists today understand that the real value of a brand partnership may not be immediately obvious when a potential deal is on offer. Focusing the negotiations purely on securing hard cash may not be the smartest option available. A true artist/brand partnership provides long-term benefits that go beyond financial remuneration. The true value is in achieving career goals that are enhanced by the partnership," says Steve Jensen, Managing partner of Direct Management Group (Katy Perry).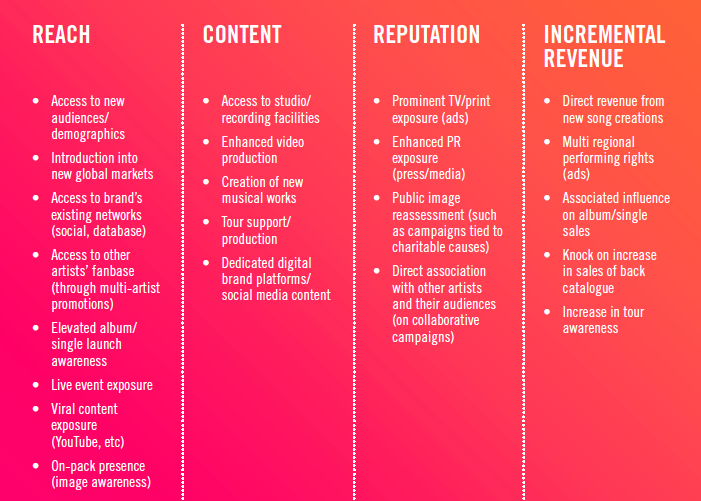 However, despite the obvious non-material benefits of partnerships for both brands and artists (pictured below), the market of music sponsorship has risen by 23% since 2010 to $1.39 bln, according to IEG report.
2. Music partnerships bring immense social reach and earned media coverage.
As an illustrating example, the researchers have analyzed the case of Lady Gaga's partnership with Pepsico's Doritos chips as part of the Doritos Bold Mission campaign in the US this year. The diva called on fans to share their boldest hashtagged photos and videos in social media, promising the winner a VIP status at her upcoming SXSW showcase. As a result of this partnership, in two weeks after the campaign, Doritos saw the 50% increase in Twitter followers, 700% lift in mentions and 3000% growth in retweets. Increase in major engagement metrics was also seen on the brand's Facebook and Instagram. The financial value of this partnership was equal $127,000 of earned media.
Below are some generalized picture of the social-media metrics increase as a result of brand+bands partnerships.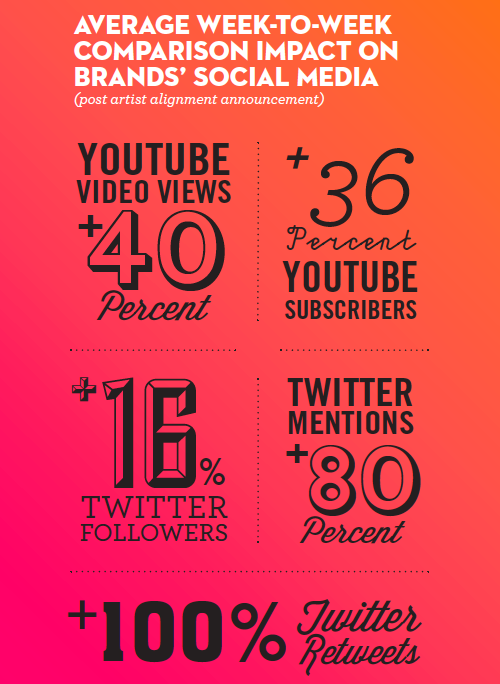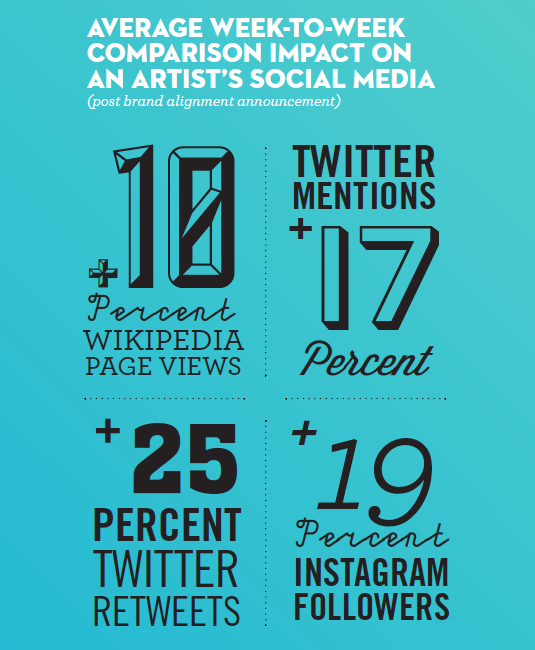 3. Music partnerships have formed a new collaborative culture and become an integral part of an artist's career trajectory.
To survey the opinions and attitudes to brand partnerships in the music industry, the researchers have interviewed around 50 influential high-profile artist managers. Here's what they've found out:
75% of partnerships stem from a direct relationship between the artists and the brand, with only 2.5% originating from a record label.
98% highlight a credible artist fit with the brand as one of the most important factors influencing their decision to enter a deal
87% see raised tour awareness as the most valuable incremental revenue from a brand partnership
82% would be interested in an equity ownership option as part of a brand partnership
68% of artist managers cited brand partnerships as an increasingly important factor in adding value to an artist's career.
According to the surveyed artist managers, most of them have worked with brands in fashion (58%), alcohol (55%) and technology (45%), while the most preferred industries for musical collaborations are technology (90%), mobile (90%) and, again, fashion (85%).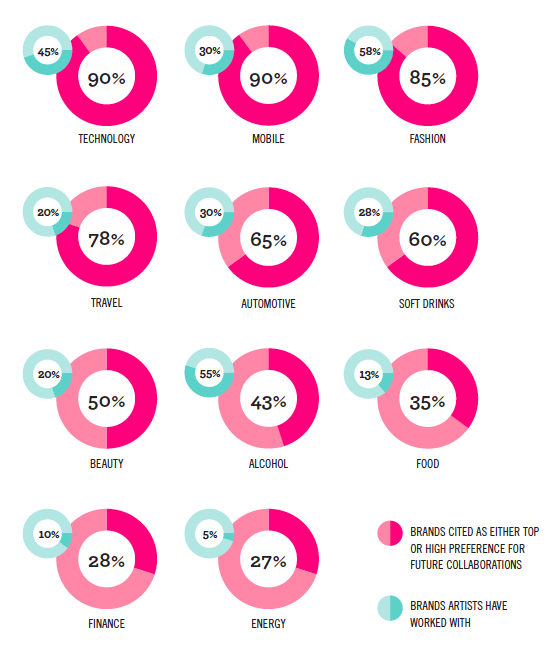 When asked about the benefits of partnership with brands beyond the financial gain, artist mangers name these, as follows:
90% — access to new audiences
88% — introduction into new global markets
88% — enhanced PR exposure
83% — prominent TV/print exposure
80% — access to brand's existing network
75% — elevated single album awareness
70% — viral content exposure
58% — enhanced music video production.
The full report by FRUKT and Next Big Sound is available for a free download here.