While experts share their forecasts on the flourishing future of mobile programmatic, the international research and consulting firm BCG has measured the impact of the whole mobile Internet industry in the so-called EU5 countries: Germany, France, the UK, Italy, and Spain.
According to the report The Mobile Internet Economy in Europe, this specific industry generated annual revenue of around €92 billion in EU5 in 2013, employed there nearly 250,000 specialists, and created a «consumer benefit» of €770 billion, which means a perceived value that consumers received additionally to what they paid for devices, apps or other mobile products or services. The average per capita consumer surplus in EU5 was €4,700 ($5,900) a year. Consumers in Germany received the biggest average surplus—€5,136—followed by France (€5,072), the UK (€4,657), Italy (€4,307), and Spain (€4,025).
Mobile e-commerce segment in EU5 was equal to €23 billion in 2013 (up 76% from 2012) and accounts for 13%of all e-commerce: nearly 66% of online purchases in EU5 were made from tablet devices in 2013. It is expected that the mobile industry in EU5 will grow by 25% by 2017, generating the annual revenue of more than €230 billion.
The major contributor to the success of mobile Internet economy in Europe is the booming app industry. Over the past six years, there have been more than 200 billion downloads of different apps globally, while nearly a half of them took place in 2013, and around 20 billion—were downloaded by European users.
The incremental growth of the mobile Internet economy in Europe can be explained by the increasing affordability of mobile devices. Matt Brittin, vice president for Northern and Central Europe Operations at Google, predicts that the average retail price for a smartphone will fall nearly by 38% by 2017.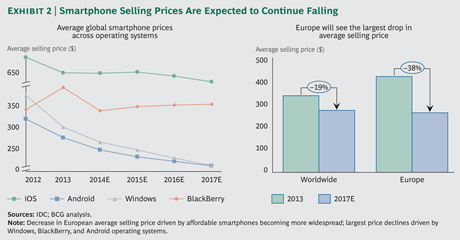 If back in 2010 Blackberry and Simbyan accounted for almost half of all  sales of mobile devices, now they represent less than 5%. Currently, Apple's iOS, Google's Android and Microsoft's Windows Phone operation systems dominate the market, while smaller competitors such as Amazon's Fire OS, Nokia's X platform, Xiaomi MIUI, Firefox OS, and Tizen are trying to gain their niche.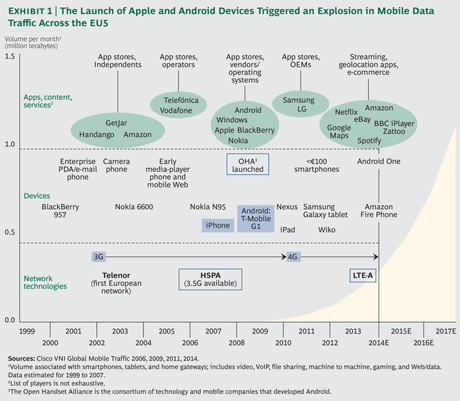 As consumer surveys in EU5 have revealed, people value a 24/7 access to mobile Internet very high. The majority of the respondents would rather sacrifice access to offline media than lose mobile Internet connection. Over a half would give up alcohol, nearly a half would forgo movies, coffee or physical activity in order not to lose mobile Internet connection. 20% are ready to sacrifice driving a car for a chance to use mobile Internet, 17% would refrain from sex to keep a mobile Internet connection, and 14% of the respondents said they wouldn't give up their mobile access to Internet at any price.
More findings and figures from The Mobile Internet Economy in Europe are available here.