A recent survey of 296 global senior business executives, conducted in September-October 2014 by Forbes Insights in association with Rocket Fuel and SpencerStuart, has revealed that while most of the respondents (62%) think that their marketing initiatives meet expectations, a deeper look shows that more than a half believe their companies waste money on marketing and lack understanding of their consumers.
The team behind the study named «Data-driven insights are only part of the journey» has polled CMOs (41%), CEOs (38%), EVP (8%) and other executives (4%) from U.S. (48%), Asia/Pacific (21%), U.K. (11%), Europe (11%), and Latin America (6%) representing such industries as manufacturing (16%), insurance and healthcare (14%), retail (12%), banking and finance (12%), technology/software (8%), consumer goods (8%), automobiles and auto supplies (7%), as well as media/communications (5%), 44% of which work for companies with $1 billion to $9.9 billion annual revenue.
Here are six key findings from the survey:
1. Overall, marketing results are satisfactory: 62% of the polled senior executives think their marketing efforts meet and 28% think they even exceed expectations. In terms of launching new products, 49% agree that their marketing meets and 39%—exceeds expectations.
2. However, expectations on marketing performance are low:
Nearly 69% of CEOs and 34% of CMOs agree or strongly agree that their companies waste money on marketing initiatives.
74% of CEOs and 41% of CMOs have limited understanding of who is engaging with their products or services.
69% of CEOs and 37% of CMOs do not fully understand who likes or dislikes their products or services.
3. More executives understand what big data is and its importance: if in 2013 52% agreed that they had good understanding of big data, this year this figure has risen up to 77%.
91% of the respondents agree that the ability to collect and analyze big data fast becomes increasingly more important: it improves marketing performance of a company, helps target customers more effectively, as well as helps pull more data from more sources (view pic.1 below).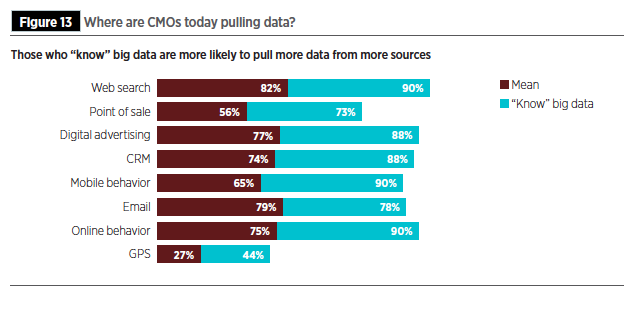 73% of the executives polled actively use machine learning to analyze and derive value from big data.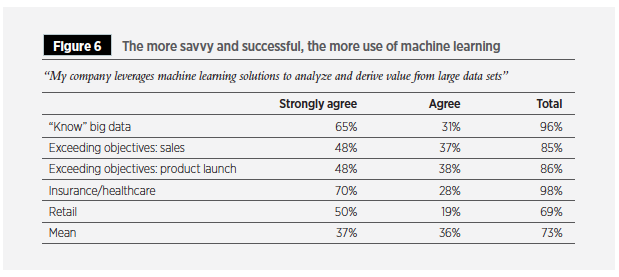 Interestingly, those companies that claim to «know big data» also know who engages with their products (56% versus 25% of those who «don't know big data»). They also know who likes or dislikes their products (54% versus 25%) and more frequently avoid wasting money on marketing (50% versus 40%).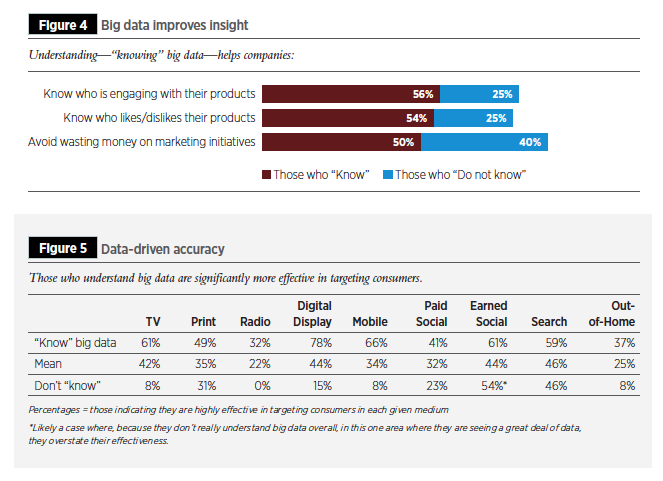 4. Digital advertising is on the rise. With the increasing reliance on big data, companies accelerate investments in digital agencies, technology partners and in-house digital teams.
5. Businesses invest more in attracting and retaining best digital/analytical staff.
6. CEO+CMO tandems become stronger. The overwhelming majority of CEOs report good relationship with CMOs and vice versa. Better relationship establish companies that claim to «know big data well.»
The full study «Data-driven insights are only part of the journey» is available to download for free here.