This month the management consulting company McKinsey has revealed the results of a study on the impact of co-creation—a phenomenon of  modern marketing, when a company engages external parties—most often, customers—into its creative processes online. Interestingly, the research has showed that co-creation increases the chances of success of a new product innovation by as little as 4% on average. However, it may have some positive side-effects, such as reduction of costs on market research and increase in customer loyalty.
Having studied more than 300 companies from three European countries, the McKinsey team has proved that co-creation skills are an important capability of a business and it can pay off, if managed properly. In the report, the firm shares three tips on how to sustain a productive model of online collaboration with outsiders and get maximum value.
1. Target your co-creators.
The research revealed that despite the fact that CEOs were generally positive about involving customers into R&D processes, just 12% of online users were willing to contribute. Around 25% of customers knew about the co-creation concept at all, and about 30% had an idea but didn't know exactly how it worked. Having analysed the best practices of P&G's Connect + Develop platform and Starbucks's My Startbucks Idea, the team behind the research advices companies to use big data to target prospective co-creators with some tailored marketing promotions according to their specific interests.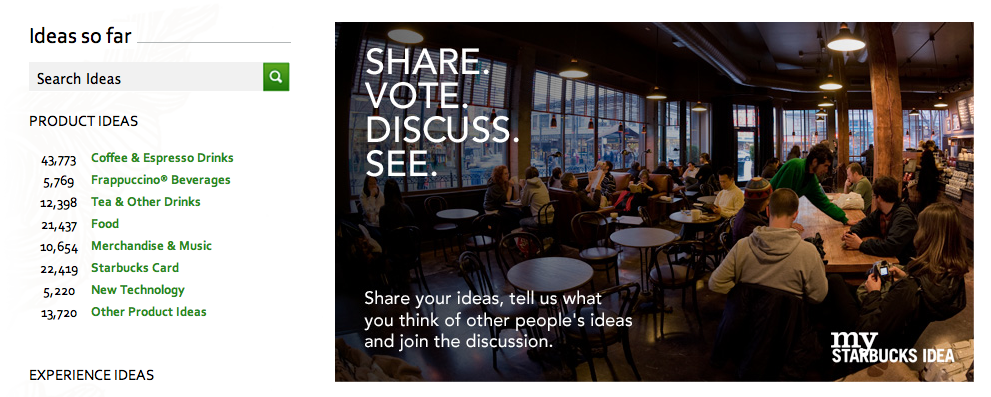 The critical mass of involved customers is important: McKinsey advices to engage at least 1,000 to 7,ooo online co-creators who «like» your brand on social media to achieve some tangible results in research and idea generation.
2. Find the right motivation.
Motivations to develop and submit their ideas online may differ from financial compensation to curiosity and desire to learn (28%), to social play (26%), an interest in new skills (26%), and desire to get recognition and non-material rewards (20%). For example, in 2012 Heineken rewarded the winner of a package design co-creation contest with $10,000.  While Starbucks offered 300 of its most active online co-creators a special recognition on the website.
It is important to consider a segment of prospective co-creators designing different types of involvement. For example, creating a fun contest will most likely draw attention of gamers and «social butterflies,» while social boards will appeal to those who want some social recognition. The best way is to combine multiple appeals in a single co-creation campaign.
3. Focus on sustainability.
Focusing your co-creation campaign on sustainable goals is a win-win situation: companies can decrease prices and «do good,» while customers have a chance to make their input into what's really important.
In total, co-creation is the future of customer-focused, transparent marketing. It decreases costs on research, helps to listen to what your customers really want, and create better engagement and loyalty.