The growing consumer interest in connected intelligent devices and environmentally friendly electric cars has driven the offer of partially autonomous and fully self-driving vehicles by the leading and startup car manufacturers alike. The two recent tech events in the U.S.—CES in Las Vegas and Auto Show in Detroit—have demonstrated plenty of breakthrough innovative products and concepts, including the ones from Mercedes-Benz, Audi, Ford, Toyota, BMW, and Volkswagen.
For example, Mercedes-Benz has already started selling autopilot systems for a freeway, however, they still require holding a driver's hand on a wheel.  By 2016, the company plans to launch a 100% autonomous vehicle Model F 015 representing the concept of "luxury in motion."

General Motors' Ford and Cadillac are also set to implement systems of smart hands-free highway driving in their cars by 2016, while the biggest electric car innovator Tesla is to offer this option in its Model S as soon as this year. The main obstacle for the faster introduction, with further adoption and penetration is the availability of reliable software, hardware and infrastructure for the fully autonomous vehicles.
To make some forecast on the innovative car market, the management consultancy BCG conducted an in-depth analysis of the current trends, available figures and industry publications; surveyed 1,500 U.S. drivers; as well as interviewed executives of some leading car making companies.
The study revealed that around 55% of the respondents would like to buy a fully autonomous car within 5 years, while about 44% would consider to do so within a 10-year time. About 20% are even ready to pay extra $5,000 for such features as highway and urban autopilot. What attracts potential customers of these innovative vehicles is that they are, of course, self-driving, require lower insurance and fuel costs, and overall safer.
The BCG team predicts that the self-driving cars with highway and traffic jam autopilot modes are most likely to hit the roads in large numbers in 2017, followed by urban autopilot mode by 2022, and fully driverless cars will appear massively no earlier than 2025. By this time, the global market will be worth around $42 billion.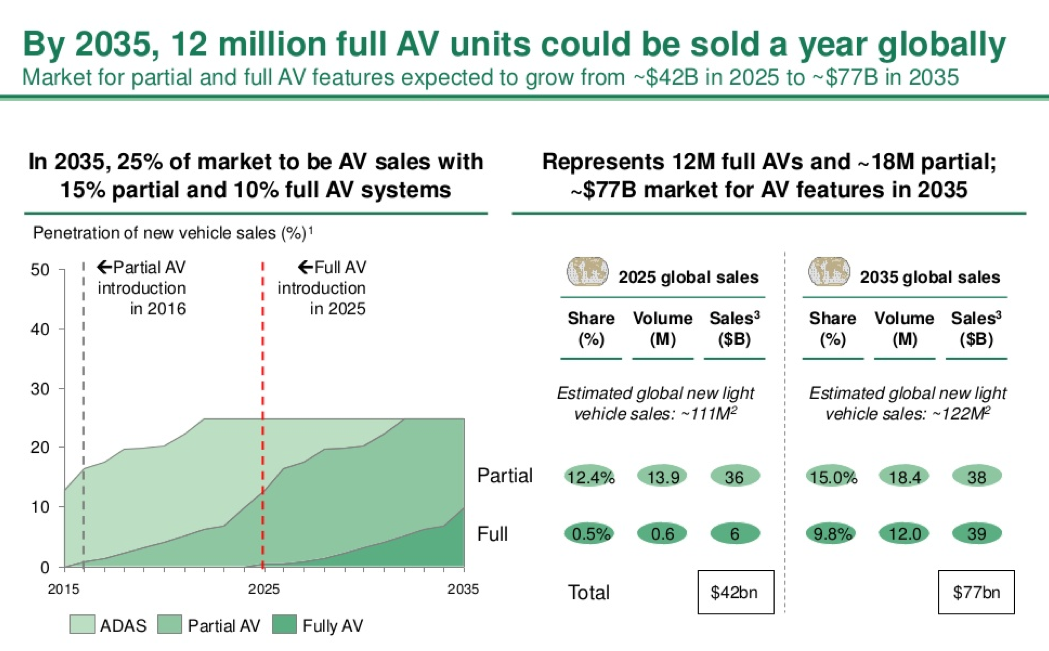 The agency considers Japan and Western Europe to be the fastest adopters of intelligent self-driving cars, followed by the U.S. and China.
"Carmakers need to act now to prepare for this future. A significant new market is still theirs for the taking," said Thomas Dauner, global leader of BCG's Automotive practice and a Stuttgart-based senior partner. "They should step up R&D investment in autonomous-driving features, with an expanded focus on software, sensor fusion, and system integration. OEMs would also have to address alternate market segmentation in order to adapt to new trade-offs that consumers will make between autonomy and other car features."
The full research with more supporting figures and diagrams is available on SlideShare.