Although nearly two-thirds (62%) of Millenials agree that the right online content increases brand loyalty, just 32% think that modern brand communications are any helpful to them. That's the data from the NY content marketing agency Newscred who polled 501 American Millenials (born between 1981 and 2000) also known as Generation Y.
The study "The Millenial Mind: How Content Drives Brand Loyalty" conducted in October 2014 aimed to learn how this specific age group of consumers viewed the branded content and how they used it in everyday life.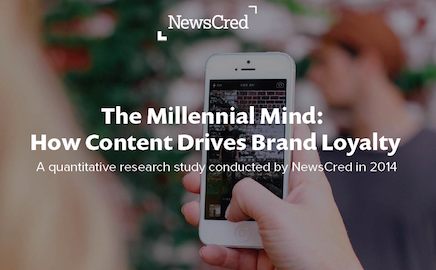 The key findings of the survey are, as follows:
1. Most of the Millenials are not impressed by the branded content they browse through. For example, 45% of the respondents don't find today's content marketing compelling enough to share online. If they feel the content is irrelevant, they may lose interest in under 10 seconds.
2. Content for Millenials must be either useful or helpful. The survey finds that 30% of Millenials refuse to read content that doesn't either entertain or educate them. At the same time, 64% are ready to interact with the content that is useful (54%—tailored to age, 55%—to location, 63%—to specific cultural interests).
3. There might be correlation between engaging content and intentions to buy. The survey found that 31% of the respondents were more likely to buy from brands that delivered interesting content.
4. Long and "boring" content is the way to failure. 41% abandon content if it's too long, around 60% share the content only if it's cause-related, thought provoking or just funny.
5. Social networks continue to be the main destination for Millenials to discover and share content. 71% searches for it on Google, 66% on Facebook, 24% on Pinterest.
6. Millenials do not ignore commercial branded content completely. Just 2% said they never read communications from brands, while 15% do it always, 31%—most of the time, 30%—sometimes, 16%—rarely.
7. Gen Y are more down-to-earth in their purchasing decisions. 78% prefer brands that have a great product, 69% — prefer brands they know and trust, 59% prefer those that fit their price point.
The full report with more analysis and case studies is available here.