Valentine's Day is a sweet time for retail sales—it's one of the largest retail holidays following Christmas. Last year consumers spent nearly £1bn on gifts and going out, which is likely to increase again this year. And, those sales are widespread, ranging from chocolates and flowers, to evenings out, travel and more. With this in mind, brands are embracing Valentine's Day to create long-lasting relationships with consumers; however the challenge is to stand out in a sea of romantic-themed campaigns.
Valentine's Day consumers may intend to be a one-time shopper, but brands are attempting to leverage mobile to convert that interaction into a more permanent connection. Around Valentine's Day, consumers may venture into stores—both on the high street and online—to purchase a one-time gift, but this creates an opportunity for brands to engage that consumer and keep them around for longer.
Cupid goes mobile
Customers use smartphones differently than their PCs or tablets. Smartphone customers are often close to a point of purchase in search of deals, and doing price comparisons. In fact, around 25% of intimate apparel site traffic and jewellery site traffic came from mobile devices during the week before Valentine's Day last year.
Based on the overall growth in mobile over the last few years, brands are focusing more on mobile. Brands and retailers are using Valentine's Day deals to generate awareness and drive consumers into stores, with the intention of building a sustained relationship rather than just a single purchase.
Mobile is also a great way to gain insight into valuable data and information on the role mobile played in the overall path-to-purchase, which will help with future customer acquisition and new customer retention.
Brands tapping into holiday success
Last year Pandora launched a mobile campaign to reach potential male customers around key dates, including Super Bowl Sunday. The creative campaign, called "Create a Valentine's Gift in Minutes", was designed to target male gift givers who would be considering unique presents for their significant other on Valentine's Day.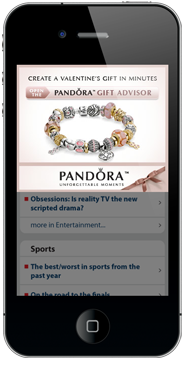 During Super Bowl Sunday, Pandora placed ads on mobile sites and apps that would likely reach men while they were browsing between plays. The campaign also ran on mobile sites and apps every Sunday in January leading up to the big game.
Of the consumers who visited the Pandora website, 14% engaged with the ads and browsed the questions, 8.5% answered at least one question and 6% answered multiple questions. In total, over 2,000 people used the mobile experience to create complete gift lists. The ads during Super Bowl Sunday drove over 17 times the number of clicks as the average for the previous 16 days.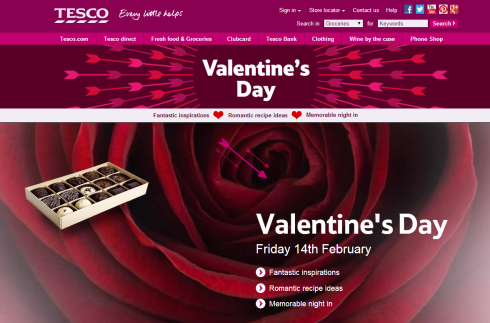 Virgin Records also tapped into the benefits of mobile with a clever mobile targeting campaign for Valentine's Day. The aim was to push forgetful consumers into buying a spontaneous last minute Valentine's Day gift at Tesco stores. Using a mobile targeting platform, they were able to send SMS messages to O2 customers when they happened to be close to a Tesco store and suggested Emile Sande's latest album as a gift idea for their other half. As a result, sales of the album rose by almost 40% and there were an increased number of purchases in specifically targeted Tesco stores.
How to share the love
Beyond the actual conversions, Valentine's Day also presents a great opportunity for brand awareness and consumer engagement. With love in the air, retailers and brands can tap into that positive atmosphere and shift focus to their own products.
If the goal of mobile engagement is building a trust relationship, Valentine's Day allows the brand to reach out with a message that says, "I care and want you to opt-in to my community."
About the Author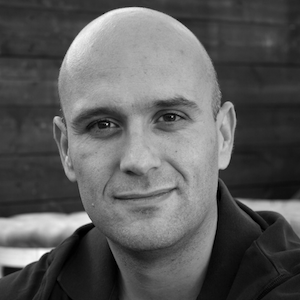 Juan Ageitos is Senior Marketing Manager at mGage. He manages the European marketing team at mGage for a fully functional SaaS solution that enables organisations to engage citizens and stakeholders via mobile channels including SMS, MMS, e-mail, social networks and mobile apps.
Juan has been marketing cutting-edge technologies for over seven years, establishing strategic relationships with major companies. Prior to mGage, he held management positions at Navteq, and Nokia.