With Valentine's Day fast approaching, various campaigns are starting to appear as brands begin leveraging this annual celebration of love to gain traction with their customers. Most recently notable is a Valentine's break themed campaign from LastMinute.com, which employs a cheeky, 'carry on' style approach to engaging with audiences entirely through the power of visuals.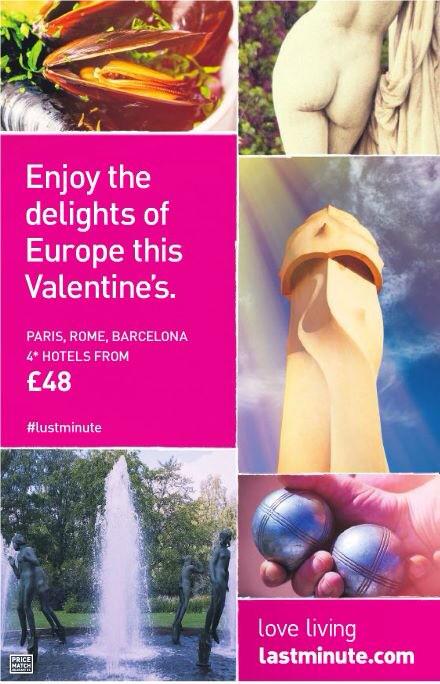 Valentine's Day is an annual opportunity for many brands, as celebrating the power of love is such a universal concept. It is also a lucrative one. Kantar Worldpanel's events panel found in its 2014 studies that 19 per cent of UK shoppers said that Valentine's Day was important or very important to them, which saw this group of romantics spend £221 more than the average household on grocery shopping. The spending power of Valentines consumer shopping is also growing—according to eHarmony, Brits are predicted to spend £1.9bn on Valentine's Day celebrations this year, up from £1.3bn last year.
Brands love an event that triggers the need for consumers to spend, especially when it encompasses a wide variety of categories. Businesses of all shapes and sizes compete for a share of the consumer spending around Valentine's Day, from large business such as Asda and McDonalds, down to smaller, owner-operated florists on the local high street.
One option, whether a large concern or an SME, is to consider using the visual language of love strategically. Attempting to make a splash in a sea of pink hearts and crimson roses can be difficult, but iStock by Getty Images has conducted analysis of the visual image trends around love, and has found that there is potential for savvy businesses to think differently, avoid cliché and standout.
For example, we found that globally, the imagery of Valentine's, love and romance is more or less universal. The heart in particular has represented love since medieval times. It was believed to be the centre of all emotions, and love is the strongest emotion of them all. While St Valentine's Day today is synonymous with cards, flowers and chocolates, it is the heart shape visual that is universally recognised. If businesses are wedded to using these longstanding tropes to communicate around Valentines, many could consider trying something different by experimenting with alternative materials, textures, shapes (like chubby or slim line classic 'heart' shapes) and colours.
Romantic love has the most visual clichés associated with it, often in the form of scenarios: proffering bunches of red roses, drinking champagne, sharing food, hugs and kisses, offering chocolate, a ring, or other jewelry—the list goes on.
However, we know that this is not necessarily what love looks like the world over, or that it is what the seven billion human hearts worldwide actually look like. Each heart is three dimensional, asymmetrical and unique, and modern love has become much more all embracing. It is this aspect of imagery which business owners can seize if they want to truly stand out.
Any imagery which depicts a strong, authentic and positive emotion is likely to evoke a similar response in the onlooker, especially if the viewer can personally identify with the picture. It's not always necessary to show an image of a couple in their entirety in order to communicate the connection they have—as with the hackneyed, tried and tested images of love and coupledom. Sometimes a close up of the connection is enough. Try to use a different spin on images of couples—to adopt a different tone, use shots taken in winter rather than traditional spring or summer shots.
Human connection is underpinned by love. It's an intimate bond between friends, family and lovers alike. Anything communicating character and individuality, or conveying comfort, confidence, happiness and contentment – the emotions associated with relationships and commitment—will resonate with audiences looking for inspiration. It shows an understanding of the shopper and the feelings they are hoping to celebrate by giving gifts such as flowers.
For example Tiffany & Co recently made headlines with a new advertising campaign, which features real life couples, including a same sex gay couple, themed around engagement. Hallmark swiftly followed suit with a same sex couple in the run up to Valentines. This kind of authenticity can often lend an additional layer of emotion to images.
Imagery around the date needn't only focus on passionate love. In some parts of the world, it's more common to celebrate platonic love and friendship on Valentine's. The world is becoming more open to celebrating other forms of affection, which is largely facilitated by the growth and the spread of digital technology, making it easier for people to share what they love with their friends.
This connection can even be extended to animals and the connection they share with each other and with humans alike. Humans anthropomorphize animal behaviour. When we see animals snuggling each other or touching noses, we transfer our own feelings about those actions. Our connection with pets runs so deep that they are an increasing part of the new Valentine's Day equation. In 2013, a survey found that one in ten of us who have pets, will be sending their animals a card.
It is also worth noting that companies would do well not to forget the singles. "Selfie" is the fastest growing keyword searched on iStock by Getty Images over the last year, and technology has driven this trend towards both solo selfies and selfies with others. We all see a lot more portraits in one day than we probably wish to. The impact of this mainly adjudicated imagery is that self-awareness is higher—not necessarily in a self-conscious, overly aware way, but it shows that we are learning to love what we have, imperfections and all, which we then celebrate through self-love. This can be a lucrative market, even around a day that celebrates being coupled-up—a Rakuten survey last year even found that in the US, 15% of women send themselves flowers on February 14th.
As the big day rapidly approaches, so does the rush to engage with those looking for gifts for their loved one— especially the 45 per cent of Brits who leave their Valentines gift shopping up until the last minute—should inspire florists the country over to consider different techniques to make their offerings stand out, whether online or in store. This Valentine's Day, it's time to kill the cliché, break stereotypes, and give a new vision to reflect what love means to us in today's world.
About the Author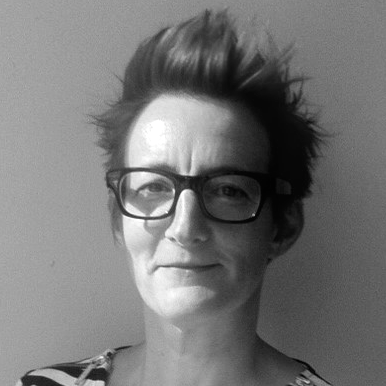 Rebecca Swift is the Director of Creative Planning at iStock. She joined the photography industry over 20 years ago and was one of the founding members of the creative research team at Getty Images, introducing visual research methodology to the industry.
Today, Rebecca is responsible for building image collections for iStock, the web's original community for crowd-sourced royalty free stock images, media and design elements, and a subsidiary of Getty Images.