The U.S.-based social-media analytics software company Infegy has release the annual report "The World's 50 Most Popular Brands of 2014″ for which the consumer insights were gathered automatically with the help of the analytics platform Infegy Atlas.
The report includes analysis of 800 brands mentioned in either positive or negative online conversations. Each one was analysed by 4 metrics: the total number of mentions, the tone of talks, the gender of the users, as well as the percentage rate of «purchase intent» mentioned in conversations.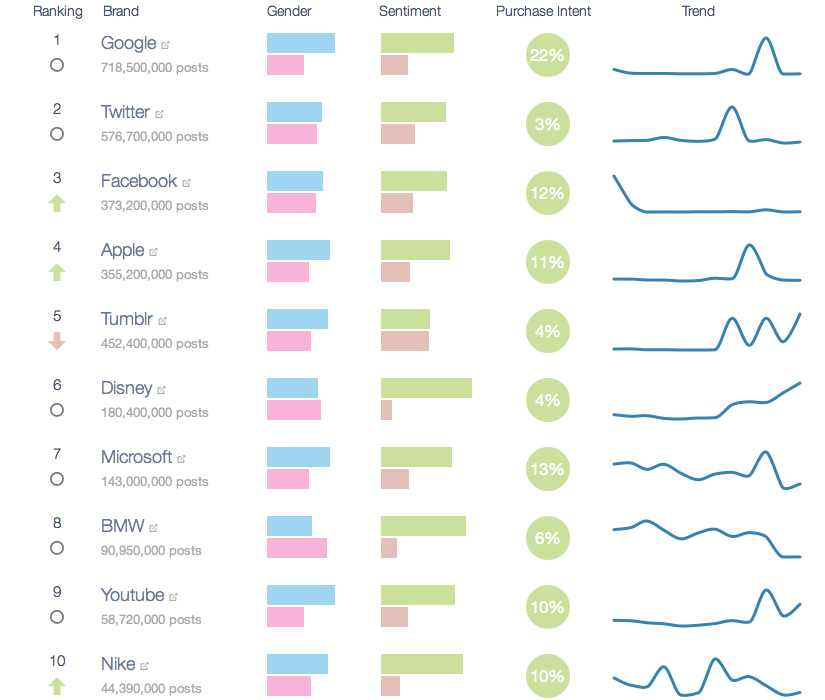 Google sits on the top of the list for the second year with the highest number of mentions (over 718.5 million posts), positive sentiment of 69% ( while just 26% negative) and a high purchase intention rate (22%).
Twitter, Facebook, Apple and Tumblr follow the leader with more positive posts, except the latter: the blogging platform has almost equal number of positive and negative sentiments (47% versus 46%) with just 4% of purchase intention rate.
The most desired brand in 2014 was Fitbit, a wearable tech device for fitness aficionados: 36% of all mentions online were related to customer's intention to purchase it. The highest leap in the ranking positions was made by a Mexican sustainable fast food chain Chipotle—the brand moved from 40th to 30th place. The biggest loser of this year's ranking was the carmaker Chevrolet that dropped 13 position to the 46th.
One of the five newcomers to "The World's 50 Most Popular Brands of 2014″ list were Flappy Bird, an online game that took the 39th place.
"As the popularity of online and social brands gains momentum, this report shows how the world is changing and how a new generation is interacting with and responding to brands," said Justin Graves, CEO and founder of Infegy. "Marketers will need to make adjustments to their campaigns and initiatives in order to strategically reach consumers in a positive and engaging manner."
The full report with more insight and details on each of the 50 brands is available here.