Despite the fact that 77% of CMOs in 2014 «had good understanding of big data,» according to the Forbes Insights study, a new independent research by Duke University's Fuqua School of Business shows that just 29% of all marketing efforts use the results of marketing analytics—at least in the U.S. The school has been conducting the survey sponsored by McKinsey and American Marketing Association twice a year since February 2012, with 288 top marketers from the U.S.
Another finding is that  budgets spent on marketing analytics are expected to shrink this year after a 3-year continuous growth: from 5.7% in 2012 to 6.0% in 2013, to 7.1% to 6.4% in 2015 (projection), despite the plan to double the spending in this field to 11.7% over the next three years.
The study finds that just 29% of all marketing projects make use of the marketing analytics data—and this figure has been gradually decreasing since February 2012 (37%).
When the respondents were asked to evaluate marketing analytics' effect on the overall project's performance on a 1-7 scale (where 7 is the highest point), they rated marketing analytics' importance as 3.2 on average. About 70% of the surveyed CMOs say they do not evaluate the quality of the analytics data at all.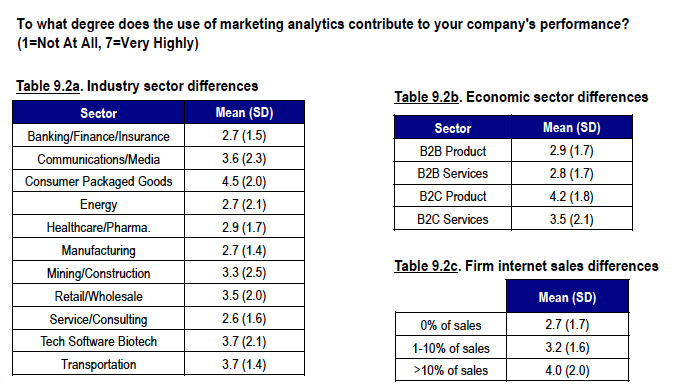 However, these figures differ for the B2C product companies: 40.5% of their CMOs are more likely to evaluate marketing analytics and use these data for new projects (46.9%). They rate the impact of marketing analytics in their companies as 4.2 on average on a 7-point scale.
By purposes, 37.8% of the surveyed CMOs use marketing analytics for customer acquisition, 30.2% — for customer retention, 27.4%—to develop social media strategy, 26.4%—for product line optimization (see the full list and the dynamics since 2013 in the table below).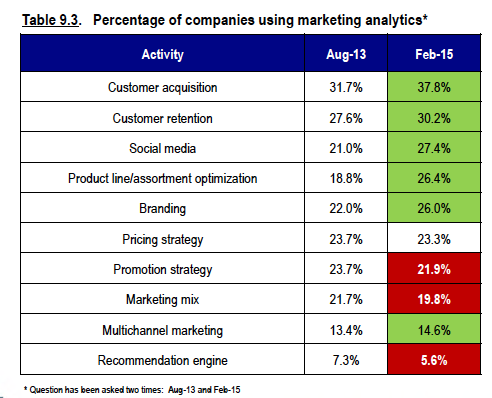 The full 72-page report with more covered topics, marketing aspects, figures and trends is available here (in PDF).