Just a week before the recent Grammy Awards, the global market research company Nielsen conducted a study on how highly acclaimed music impacts the effectiveness of the brand advertising, and also compiled two lists of top 10 ads featuring well-known songs—popular among the U.S. general public (age 18-49) and Millenials (18-34).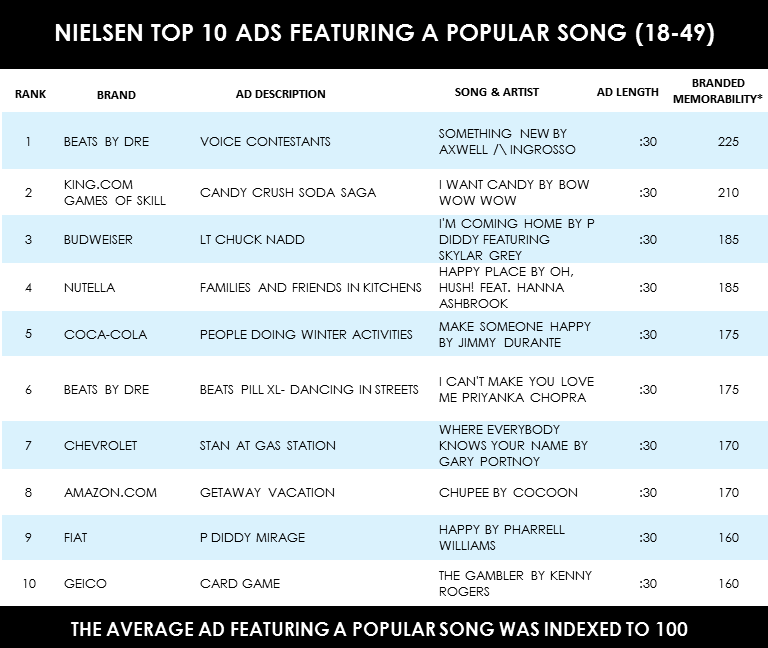 The team looked at some popular English-langugage ads featuring songs by Grammy-nominated artists, launched in February 2014 or later, that were «on-par or significantly above the likability norm.» The researchers measured the ability of the respondents of different ages to remember the ad and the corresponding brand 24 hours after exposure to it, and assigned special scores called Branded Memorability Index.
Interestingly, more or less the same songs in ads resonated among both Millenials and the older audience. Kings.com Games of Skills, Beats by Dre, Coca-Cola, Budweiser, Nutella, Amazon.com—these six brands had a much higher memorability index due to popularity of songs and artists featured in their TV commercials. For example, the Kings.com Games of Skills ad «Candy Crush Soda Saga» with a memorability score 256 among Millenials was proved to be at least 2.56 times more likely to be remembered and associated with the correct brand among the chosen audience than an average ad featuring a pop song (with a relative index of 100).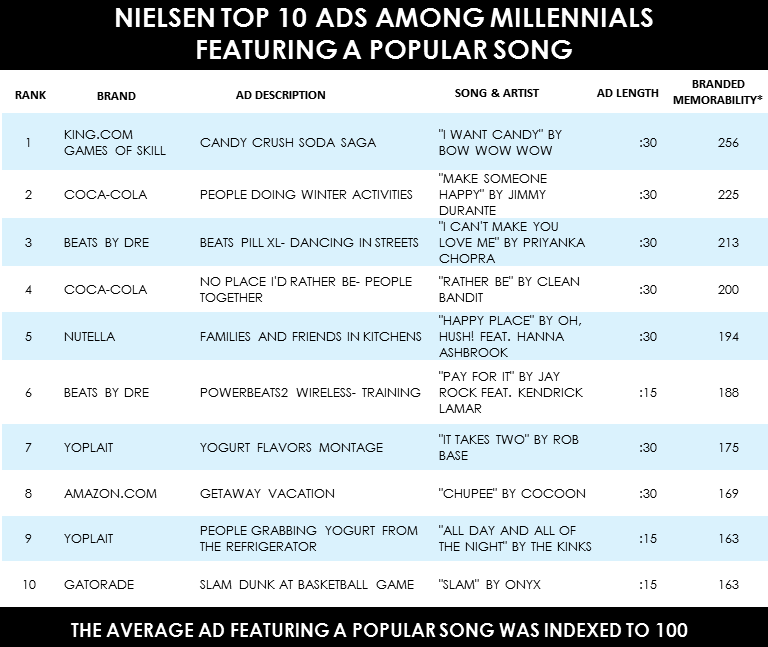 "There are definitely some lessons to be learned by advertisers looking to invest in a popular song to connect with wider audiences," says Randall Beard, President, North America, Nielsen.
"Some musical genres perform better with younger or older consumers—like hip hop among Millennials. Uplifting, happy music resonates well across all consumers, which is important if advertisers are looking to connect with general audiences. GRAMMY-nominated music connects across segments, and it's a safe bet that's not a coincidence! Music licensing can be a substantial investment for advertisers, so understanding which genres resonate best with their customer groups is key to maximizing that investment."