If you think your digital media planners do well and your budget on Internet ads is spent wisely, think twice. Following Google's ad viewability report as of November 2014, which suggested that about 56% of all digital ads paid by advertisers are usually never seen by consumers, the Luxembourg-based startup Oxford BioChronometrics has proved that this number is actually much higher.
The small software engineering company specializing in Human Recognition Technology conducted a study: the team placed digital ads (banner and contexual units) on Google, Yahoo, Facebook and LinkedIn. Those ads were then monitored using the company's newest technology for engagement with automated programs (bots) and/or human users.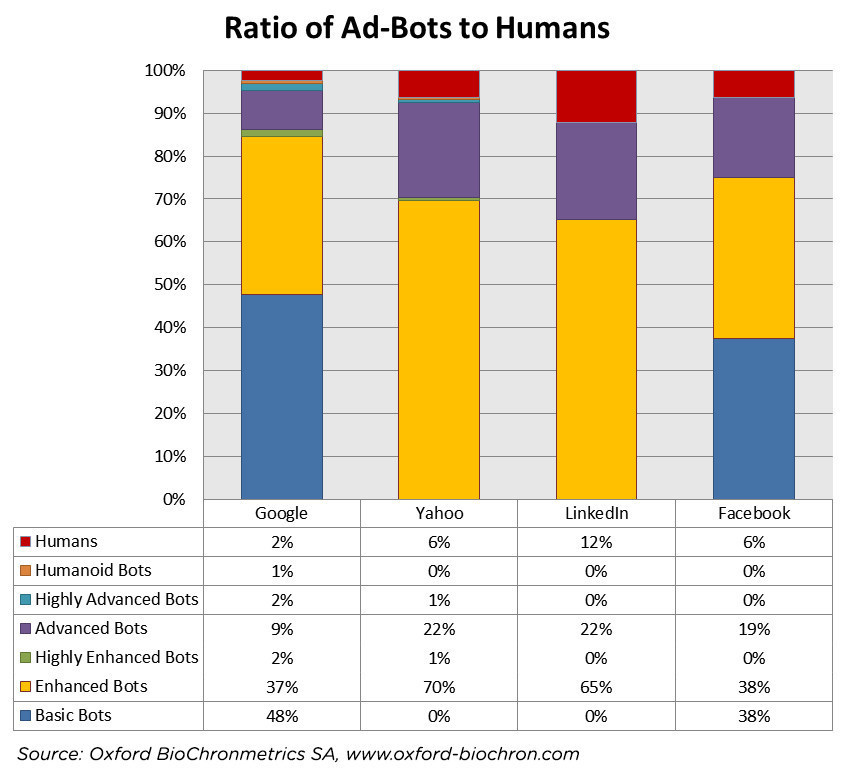 The results were surprising: the highest rate of human interaction with the ads was seen on LinkedIn (12%), the lowest — on Google (2%). All the rest of «work» was done by notes of six different organizational complexity — from basic bots (48% interaction with Google ads, 38% — with Facebook ads), to humanoid bots which act like humans and are quite hard to determine. As all the ads were billed and paid, the team headed by Oxford BioChronometrics' CTO Adrian Neal considers this media spend useless, as clicks are fraudulent.
He says: «We didn't make this press release lightly and we're keenly aware of the ire it will draw,» explained Neal. «However, we believe that the integrity of the online community must be served and felt we had no choice but to go public with our findings. Advertisers make many online communities possible and it's critically important to ensure the integrity of their online experience if we expect them to remain engaged. Only transparency can accomplish this and the time has come to shine a light on an area few are motivated to look at.»
The full study with more findings and graphs is available here.