Boomers, X-ers, Y-ers, Z-ers.. What's next? The Futures Company, a Kantar-owned insight and innovation global consultancy, suggests a new term to name a demographic group of those who was born between 1997 and 2015—Centennials. The company also provides some interesting statistics on this generation gained through an in-depth qualitative and quantitative research in the U.S.
Although the categorization is not new as such—sociologists already researched this age group as "Gen Z"—the new study by The Futures Company offers a comparative analysis of Millenials versus Centennials who are predicted to become the most wanted consumer demographic group for marketers in a few years.
Centennials are those born at the turn of the century from 1997 to these days—youth under 18 year olds. According to U.S. Census Bureau, this age group of population accounts for 23% in America. This generation is expected to be smaller than their predecessors mainly due to lower birth rates (see the graph below).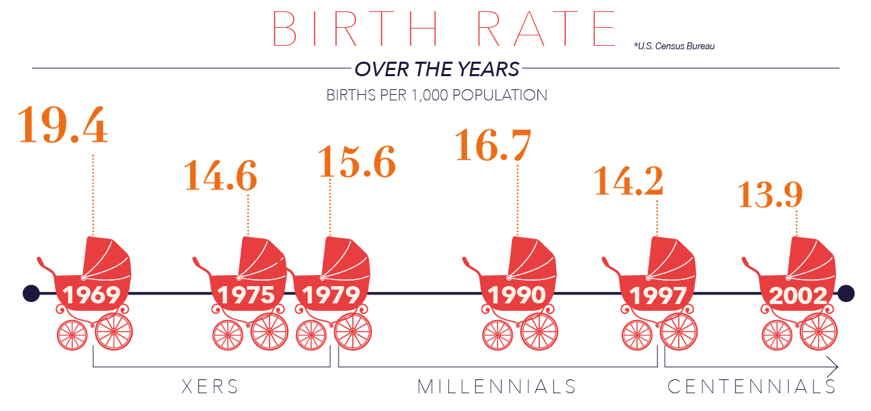 As to Centennials' mindset, they are less dreamy and ambitious than Millenials. The study found that 72% of the U.S. respondents from this age group agreed that "having new stuff was overrated when what I had already was good enough."
Centennials have more vigilant outlook and tempered expectations; they are more self-assured than Millenials. According to the data gathered in November 2014:
68% say they worry about not being prepared for the future rather than saying they are too young to worry about it.
60% would prefer to have guarantees that they never become poor over the possibility of becoming rich.
just 47% of 12-17 year olds care if their clothes are in style.
just 30% of 12-17 year olds say they like to do things others consider risky or dangerous.
just 26% of 12-17 year olds agree with the statement "we are about fun."
just 52% have an account on Facebook and visit regularly.
To learn more insight from the study view the 53-minute video "The Millenials Have Left the Building" on the new tactics of youth marketing by The Futures Company.