The recent news that Coca-Cola is planning to streamline its brands into a cohesive whole makes for interesting reading. Consumers are used to seeing four separate Coca-Cola products on the shelves and attaching different attributes to each. If you want no sugar you go for Coca-Cola Zero, or if you want the authentic experience then you plump for the original red can. With such instant recognition for its products, some would question why Coca-Cola is bothering to do this at all.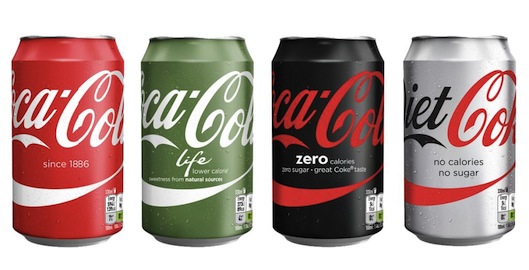 I believe that the answer lies in the fact that much of the brand's marketing has been gender-specific. This approach has held the brand back. For example, Diet Coca-Cola has long been targeted at a female audience, while sugar-free Coca-Cola Zero has been aimed squarely at male consumers.
Streamlining the products into unified branding allows Coca-Cola to focus on its core proposition; the classic "Coke and a smile". This proposition is now subject to a greater clarity of messaging as it is not spread thinly across a disparate portfolio of products. Instead, the "One brand" approach hinges everything that makes Coca-Cola famous on the core product benefits of each drink.
So if clarity of message is easier to achieve in this way, why don't brands do this as a matter of course? On one level, the problem is purely logistic. How do global brands roll their products into one without a massive expenditure, and how do they do this with ease? On another level, there is a firm belief that different audiences need different messages. If your core proposition touches a unifying human emotion that resonates with a variety of audiences, you don't need to create individual product propositions.
Coca-Cola is not the only brand to have realised this. Johnnie Walker is also fairly accomplished at taking this portfolio approach. Its "Keep Walking" campaign cut across its whole portfolio and built a presence for the brand as a whole, rather than a number of its variant products. Unlike Johnnie Walker, Coca-Cola doesn't have to deal with the differences in price and quality of its products.
For a global brand like Coke, a portfolio approach will be the underpinning factor of continued global success. This is not to say that there won't be markets that respond more readily to different products; there will always be markets where the sales of Diet outstrip those of the classic red. Coca-Cola has acknowledged this by emphasising its desire to increase low-calorie and sugar-free sales by 50 per cent within the UK. Coca-Cola is taking this portfolio approach because its recognises the power of the brand, so is asking consumers to make a brand rather than product choice.
About the Author

Joanna Davies is the Managing Partner at drink, part of the ZAK Media Group. She has over sixteen years experience in marketing, having held senior roles in both agency and client-side businesses. Tenacious, ambitious and entrepreneurial by nature, Joanna became Head of Group Marketing of a national leisure business at 25 years old. At 29 years old, she set up a leisure sector consultancy, which rapidly grew and developed into 'drink', an integrated marketing agency specialising in the leisure, food and beverage sectors.