For the third year in row, the biggest ketchup manufacturer Heinz Tomato Ketchup launches a spring campaign encouraging fans of fresh vegetables to take part in a 'Grow Your Own' competition for a chance to win professional gardening equipment.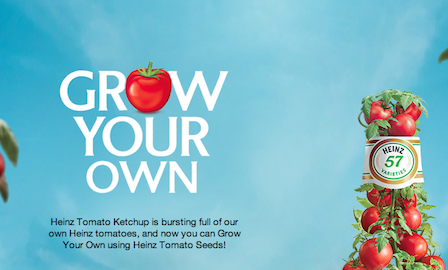 European residents who are registered Facebook users can go to the app developed by We Are Social, fill in their address and get the Heinz tomato seeds delivered right to their mailbox. According to the contest rules, they have to grow the seeds, take every care of them, wait for the tomatoes to appear— then take a photo of them and upload it to the same app page.
The 'Grow Your Own'  has seen a positive response from consumers of all ages.
«We've seen thousands of families from all over the UK get involved in the campaign over the last two years; now everyone in Europe has the chance to grow their own tomatoes with Heinz. This is a great example of how social thinking is helping influence our marketing strategy,» says Lucy Clark, European senior brand manager at Heinz.
Building on its previous success in the UK, this campaign will be massive and multi-platform, and roll out across digital, TV, social media and in-store activations.