Today the new book "Better and Faster" by Jeremy Gutsche, the author, innovations consultant, founder and CEO of Trendhunter.com is on sale in the bookstores and on Amazon!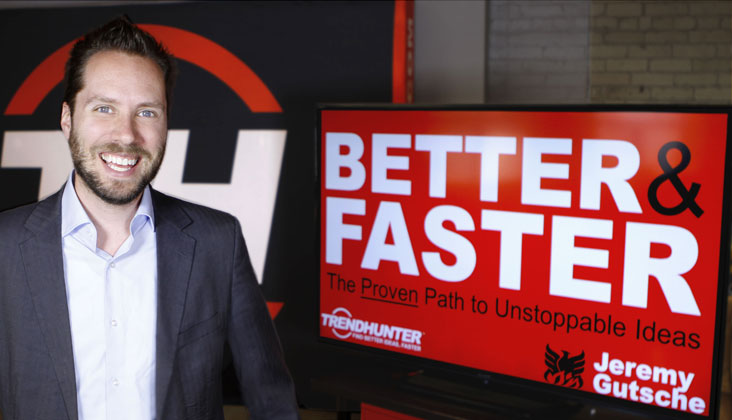 This book will make you a better innovation leader by teaching you 3 neurological traps that block successful people from realizing their full potential and the 3 Hunter Instincts you can encourage in yourself and your team to realize your potential. Then, it will make you faster by teaching you 6 Patterns of Opportunity: Convergence, Divergence, Cyclicality, Redirection, Reduction and Acceleration. Each pattern you'll learn is a repeatable shortcut that has created fortunes for ex-criminals, bootleggers, reclusive billionaires, disruptive CEOs and ordinary people who made it big. You'll learn about:
– An origami expert for hire who used the art of paper folding to reinvent the aerospace, heart surgery and bio-engineering industries.
– A little-known billionaire who quietly created what insiders are calling "the most innovative and devastating retailer in the world."
– An ex-con who applied a learnable pattern to a sleepy industry, creating a $50 million empire.
– An art professor who combined 14th century art history techniques with tips from prison gangsters to transform the lives of cancer patients.
– A middle-manager who used mystery and divergence to turn a bad focus group result into multi-billion dollar business.
– A Dutch bureaucrats who used real life video games to re-program almost a million drunk celebrants, narrowly avoiding a public health crisis
– An adventure junkie who devised a high-risk, high-injury $70 million business that people cannot resist, despite the inherent danger.
In an unparalleled study of 250,000 ideas, Jeremy and his TrendHunter.com team have leveraged their 100,000,000 person audience to study what actually causes opportunity: data-driven research that was never before possible. The result is a series of frameworks battle-tested with 300 top-tier brands and CEOs at some of the world's most powerful companies who have relied on Jeremy's unique method to accelerate innovation during times of change and uncertainty.
Now, for the first time, you can learn the same tactics to out-innovate, outsmart and outmaneuver your competitors. You will learn to see patterns and clues wherever you look that will put you on the smarter, easier path to finding those breakthrough ideas faster.
Jeremy Gutsche is an innovation expert, award-winning author, one of the most sought-after keynote speakers on the planet, and the founder of Trendhunter.com, the world's #1 most popular trend-spotting website. Prior to founding Trend Hunter, Jeremy grew a $1 billion portfolio for a bank, and today over 300 brands rely on his expertise, including Victoria's Secret, Sony, Coca-Cola, IBM, Wells Fargo, and Hughes Aerospace.