Aesop, the UK-based brand storytelling agency, in collaboration with online polling company OnePoll has ranked the top 40 consumer healthcare brands perceived by the British as great storytellers. Unilever-owned Vaseline has been identified as the leader in the overall list of top performers, followed by another skin care expert E45 owned by Reckitt Benckiser, and P&G's cold-relief brand Vicks.
The survey asked the participants to rate 40 brands of over-the-counter remedies against ten criteria, such as: memorability, level of engagement, authenticity, ability of a brand «to create their own world,» unique character, and more.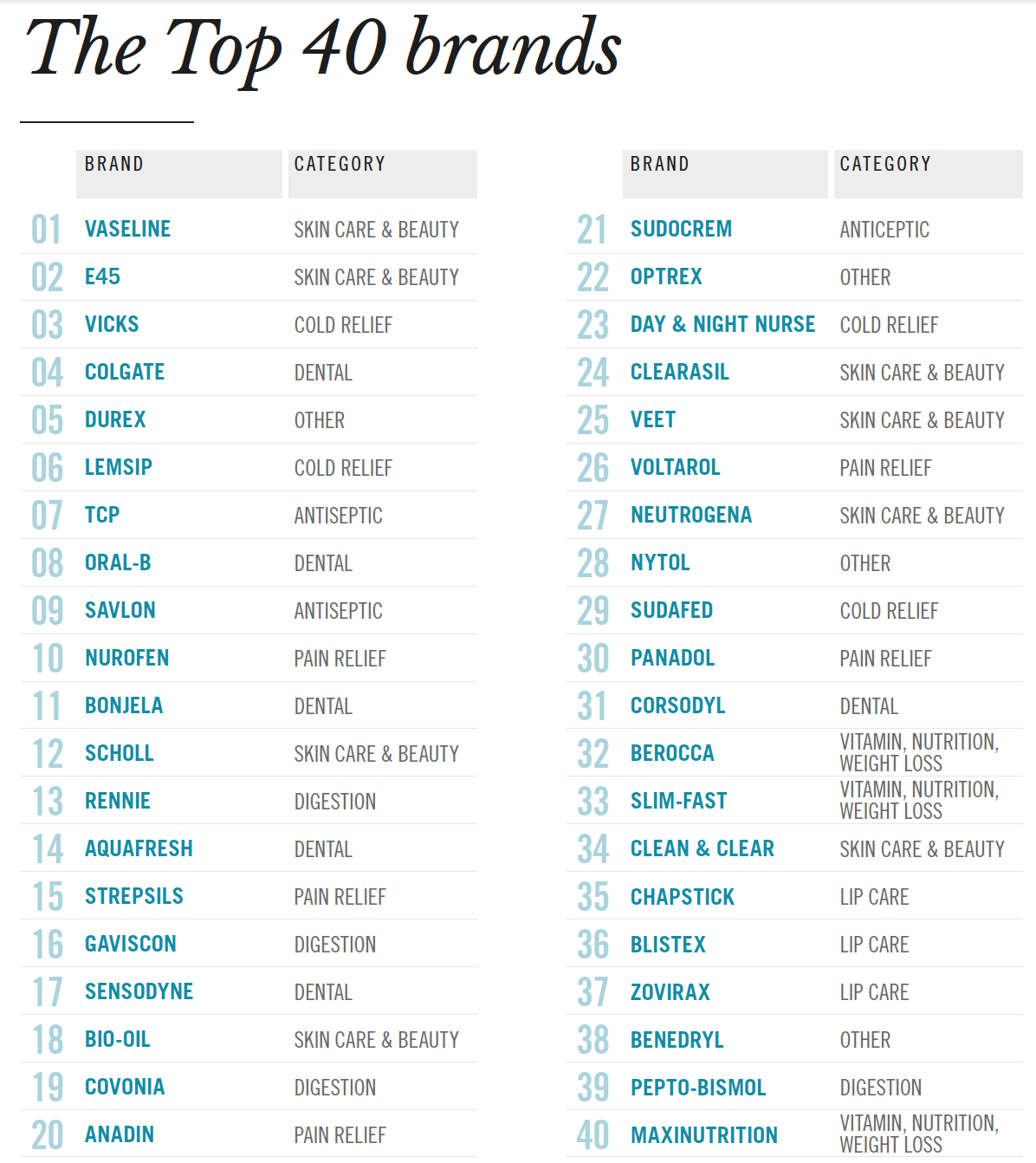 The top-performing category (thus, the most competitive) is 'Cold Relief', followed by 'Antiseptic' and 'Dental.'
Interestingly, the rankings of storytelling brand power differ depending on the gender, age, and geographical location of the respondents. Among 18-24 year-old consumers Durex tops the poll; women rate Bio-Oil at the top; people from North East vote for Colgate; men prefer Anadin to Nurofen against the authenticity criteria, while women consider Vaseline more memorable than Durex (and men vice versa).
Ed Woodcock, Director of Narrative, Aesop Agency, commented on the study:
"It's estimated that there are 50 million visits a year to GPs that could have been dealt with by a community pharmacist—and with initiatives such a Pharmacy First, the government is empowering patients to make more decisions regarding self-medication with Over The Counter (OTC) treatments.

Healthcare brands have an opportunity to talk more directly to consumers than ever before, to get closer to patients and help them make informed choices. This first-of-its-kind survey identifies those healthcare brands that are doing it well and those that could do better."