Content marketing (CM) is not just about posting cute puppy pictures in brands' feeds on social media (and, actually, has nothing to do with it).
According to The Content Marketing Institute (CMI) and Marketing Profs, in October 2014, 46% of B2B and B2C marketers in North America planned to increase budgets on content marketing, considering it one of the most efficient marketing investments. In 2015, as Curata has researched, 76% of the US marketers plan to increase or significantly increase these spendings, 21% will allocate the same budget as in previous year, while just 3% are going to cut the expenses.
CM effectiveness: types and metrics
Regarding the effectiveness of different types of CM, 54% of the respondents of Ascend2's «Content Marketing Trends Survey Report» said that articles and case studies were the most effective ones, followed by videos, infographics, researches and whitepapers, online events, e-newsletters, photos, and news releases. However, the most poplar and used are social media posts, e-newsletters and blogs/articles.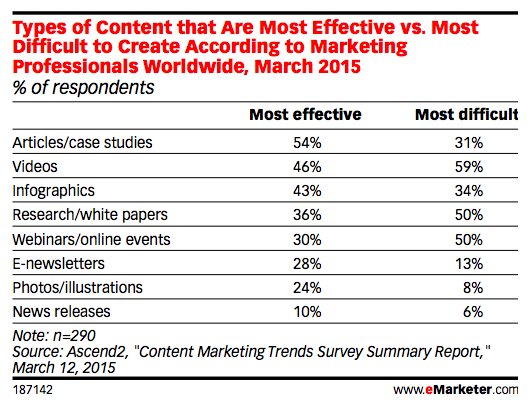 Measuring the effectiveness of these efforts, about 26% of marketers worldwide consider them as «very successful» and 63% as «somewhat successful.»As for the B2C marketers, CMI has different figures: just 23% measured their CM activities as successful, 32% as unsuccessful, and 51% agreed that measuring content effectiveness was the top CM challenge.
The most popular metrics of CM effectiveness among B2C marketers in North America in 2012-2014 were web traffic (62%), sales (54%) and SEO ranking 39% (view the full list in the table below).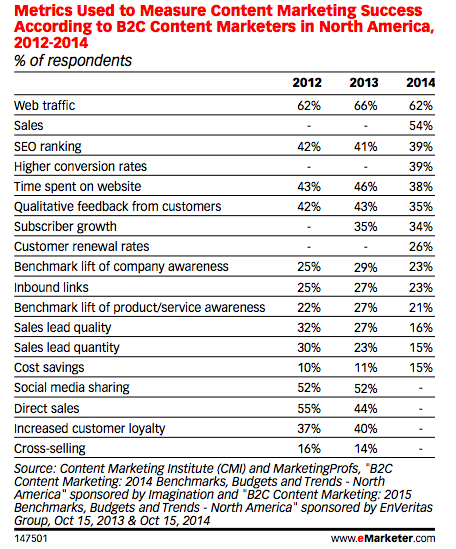 Lack of long-term CM strategy and consistency: the UK and US experience
About 42% of Ascend2's respondents said they lacked effective content marketing strategy. As CMI and DMA UK (Direct Marketing Association) found out, in the UK 85% of marketers used CM, however, 51% didn't have it in a documented form; 11% didn't do CM at all.
Just like in the U.S., British marketers' most used CM tactics are social media posts (89%), e-newsletters (88%), blogs (85%) and articles on the site (82%). According to TrackMaven's study «The Content Marketing Paradox: Is More Content Really Better?» as of January 2015, tweets generate the most engagement (73% with up to 10 interactions) compared to just 6% from Instagram videos.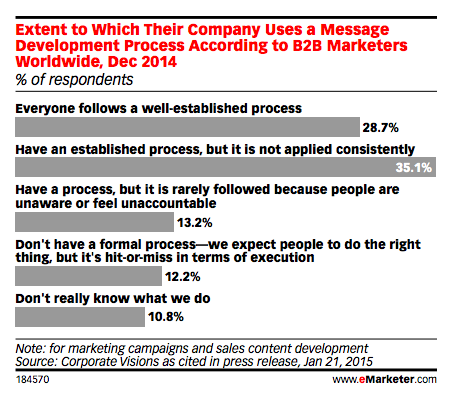 According to the online polling by Corporate Visions in December 2014, about 70% of marketers don't have an established process of developing messages and creating content.
More findings and figures are available in eMarketer's Content Marketing Roundup.