Reputation Institute, the U.S.-based firm measuring corporate reputation of companies across seven dimensions, has revealed the results of the latest study The Global RepTrak® 100 conducted in January-February 2015 across 15 countries.
The BMW Group, followed by Google, Daimler, Rolex, LEGO, The Walt Disney Company, Canon, Apple, Sony and Intel have been named as those with the highest corporate reputation across such dimensions, as: products and services, innovation, workplace, governance, citizenship, leadership and performance.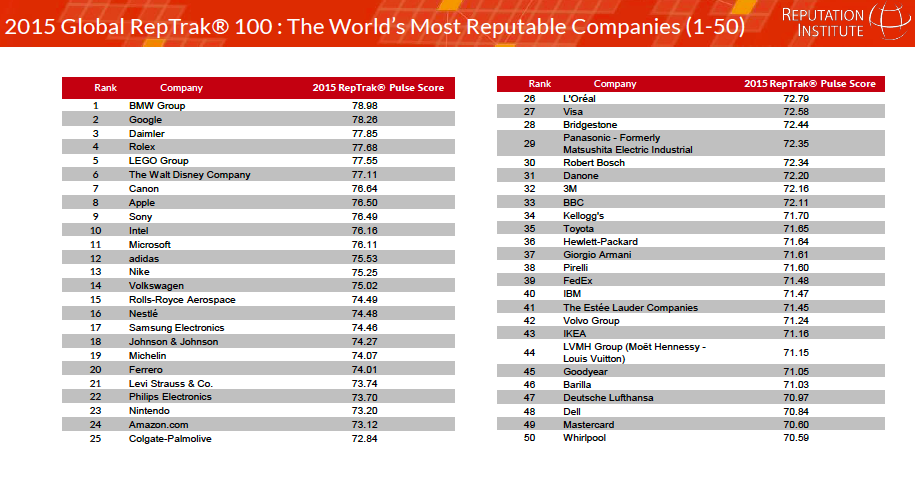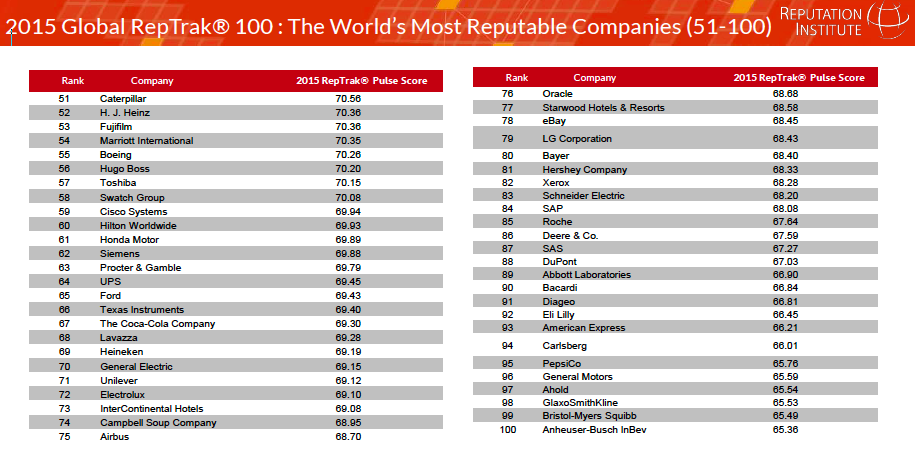 Consumers from Australia, Brazil, Canada, China, France, Germany, India, Italy, Japan, Mexico, Russia, Spain, South Korea, the UK and the USA were asked to assess their willingness to buy from, invest in, recommend, work for, welcome into their neighbourhood, review positively or entrust solutions to some problems to the most highly regarded 100 world's companies on a 7-point scale against each dimension.
In 2015's ranking of Top 100 reputation leaders, BMW has regained the top spot from 2013; Google has retained the second position; LEGO has gone up to the 5th from the 9th in 2014, while Sony, vice versa, has lost ground and fell from the 5th to the 9th spot.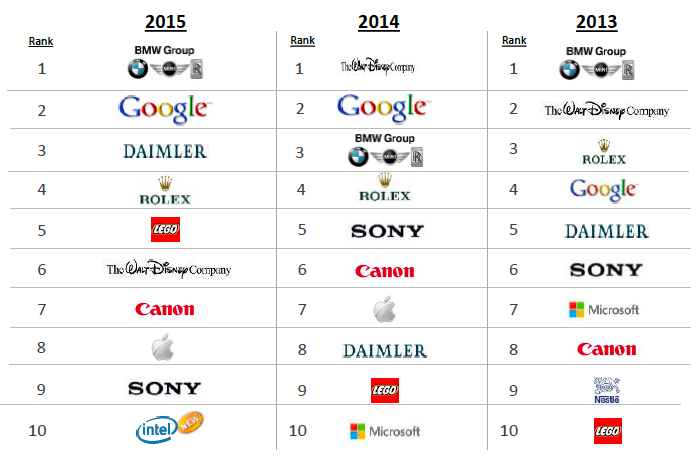 However, reputation leaders vary by region greatly. In North America LEGO, Amazon and Kellogg's are ranked as the top three, while there are such brands and Levi's Campbell's and Hershey on the top 10 regional list which are absent from the global one.
The European top 10 list still features BMW Group as the leader, along with Samsung and Volkswagen which do not appear on the top 10 global ranking. The Latin American consumers rate Microsoft, Nestle, Nike and Volkswagen high enough as reputation leaders so that they appear on their regional top 10 list; the Asia-Pacific consumers also rank Adidas among the fist 10 leaders. In total, only nine of 100 companies made it to the top 10 in six or more of the 15 surveyed countries; on the other hand, only BMW, Sony, Google, Daimler and LEGO made the top 10 rankings in nine or more of the 15 countries.
It is noteworthy that the ranking of companies' reputation by dimensions differs from the general one considerably. None of the brands got the top score in all 7 categories of consumer perception. For example, the global leader BMW Group tops only on the governance dimension; Google—on two (workplace and citizenship); Apple—on three of seven (innovation, performance and leadership).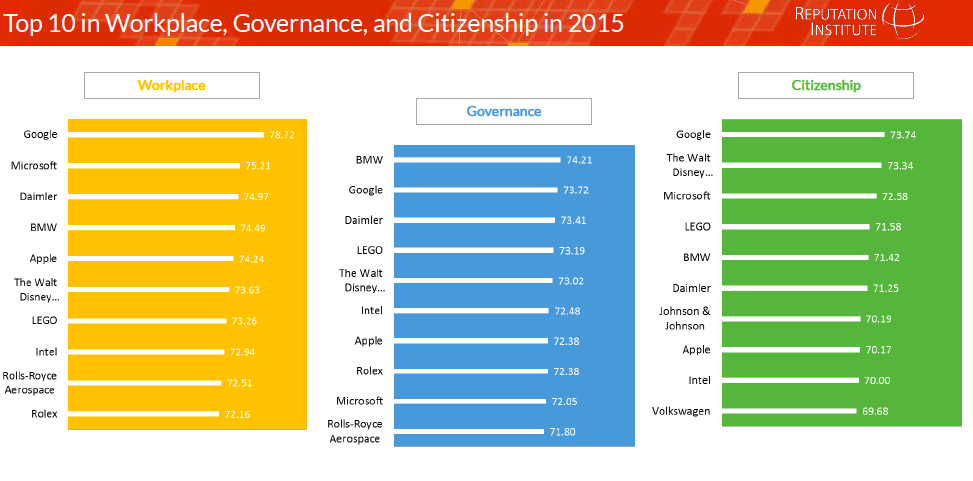 The 2015 Global RepTrak® 100 study also discusses what drives corporate reputation, how it affects public support, what companies can do to increase support from customers, as well as trends, challenges and opportunities for the world's leading companies to improve their reputation. Download the full report here.