Marketing efforts of any financial organization serving either individuals or companies have always pursued two goals: to raise brand awareness and attract new customers, while improving value for the existing ones to retain their loyalty. Below is the roundup of the latest marketing initiatives by the biggest UK's financial brands split by three trending themes.
1. Further retailization and virtualization of high street banking. 
More and more banks tend to become friendly places like retail shops rather than intimidating serious places where you can understand very little. Following on this trend, the RBS-owned bank NatWest started implementing new positioning centered around people and their life plans. Clients dream of buying a house, not getting a mortgage as such, so the bank shifts focus from financials products on to people's life journey.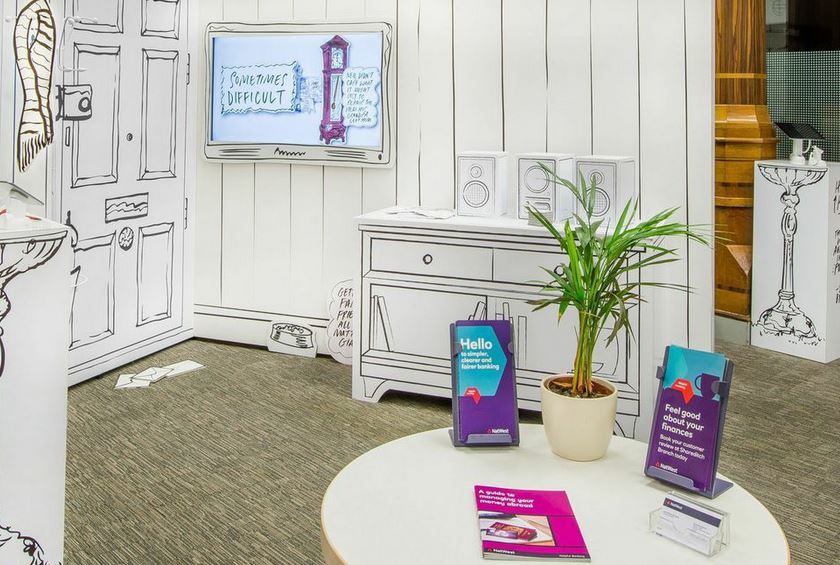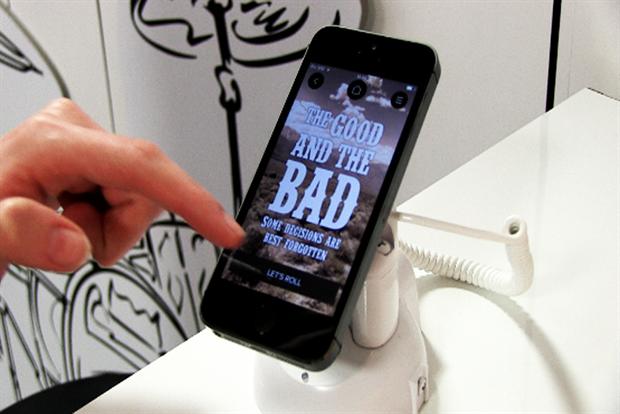 In February this year, NatWest in collaboration with agency Boldrocket temporarily redesigned two London branches with black-and-white cartoon-style pop-up settings. The idea was to illustrate that 'life was a blank canvas,' so money/loan/mortgage was just a means to move forward in life. This human-centric approach aimed to draw attention to an in-store technology and a new mobile app.
Meanwhile, experts predict that total virtualization rather than further 'retailization' is where the high street financial segment is heading. Anthony Thompson, Metro Bank co-founder, believes that popular 'fin-tech' digital payment systems such as Pingit, Paym, Square or even digital-only banks with no physical presence, available 24/7 in a handy app in a 10-year time will substitute branches (with exceptions—for 'emotional connection'). By November 2015, Thompson and Mark Mullen, former CEO of First Direct, are to launch a new virtual banking brand Atom.
2. Further digitalization for convenience and reducing costs.
To keep up with the growing customers' demand and anticipation, banks accelerate the uptake of digital technology. And it goes far beyond mere smartphone apps for Internet banking. The UK financial institution Nationwide was the first to offer Internet banking access directly from the Android-based smartwatches. The app developed in collaboration with IBM is already available to download from the Google Play.
Another way of using tech as a competitive advantage for bankers is improving security.
Earlier in February, RBS and NatWest introduced a fingerprint recognition technology to verify transactions. Halifax bank has gone as far as testing the unique customers' heartbeat pattern as a security verification. The bank has collaborated with the heart-rate measuring wrist band Nymi that can be synced either with a Windows, iOS, or Android mobile device. According to Marc Lien, director of innovation and digital development at Halifax, a heartbeat pattern is more secure than fingerprint or iris scanning because it can't be stolen or replicated to access the bank account fraudulently.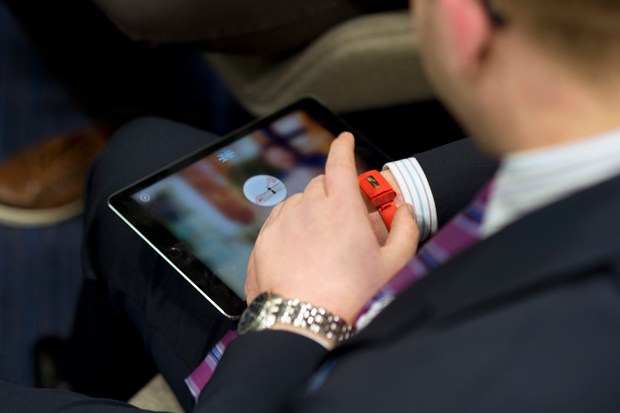 Additionally to convenience and enhanced security, some financial companies also take responsibility to improve digital skills and nourish digital financial literacy among their customers, either individuals or organizations. The latest example is the commitment by Lloyds Banking Group to spread 7,000 of Digital Champions across community branches to educate customers about basic digital skills.
3. Millenials and cause-driven financial services.
Most B2C financial brands pay more and more attention to Millenials developing specific services, marketing initiatives and communication strategy relevant to these demographics (21-34 years old). Despite a common social myth that Millenials are careless about money, a recent research project "Rufus Reinvents Money" by the UK ad agency Rufus Leonard proves that UK Millenials share the same attitude to personal finance as their grandparents.
Nevertheless, this generation has different mindset and priorities in life, so financial brands consider these peculiarities devising proper communication tactics and strategy.
For example, in February this year, Barclays announced that its marketing department would function more like a newsroom, delivering relevant content within 72 hours of conception. Mark Brayton, interactive marketing director at Barclays, explains this decision as a strategic shift from a «microphone» one-way style of pushing brand messages to a more receptive and adaptive style of listening and reacting to customers' current concerns. The new approach also includes an overhaul of the company's YouTube strategy to resonate with a younger audience.
Another financial institution Nationwide decided to target an even younger group of 14-16 year olds with The Money Stuff YouTube Channel run by popular UK vloggers 'DanIsNotOnFire', 'Emma Blackery', 'LukeIsNotSexy', 'TomSka' and 'KicktheP'. The platform aims to educate youngsters about handling personal finance in an entertaining way.
The credit card company Visa launched EveryWhere Initiative that challenged startups to suggest ways to market the company's services in a more meaningful, cause-driven way that appeals to Millenials. Finalists will get $50,000 and one month to create a marketing plan. Submissions are accepted until April 30, 2015.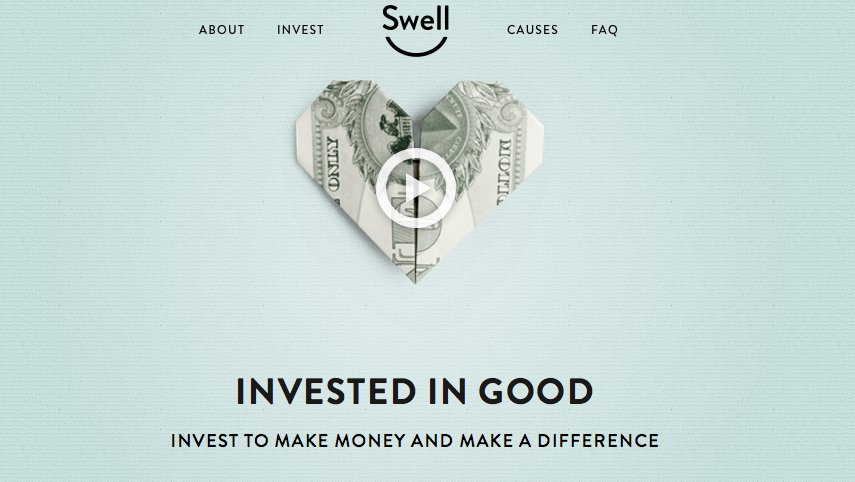 Swell, an investment advisor and research company recently launched by Pacific Life Insurance is, probably, the most disruptive model of Millenial marketing concepted by a financial brand so far. Although not specifically targeted at younger people, this model embraces the principles of the cause-driven 'shared economy' by creating socially meaningful investment projects where you can earn while helping others.
Currently, customers can invest into four categories of projects available through Motif Investing company: 'Improve Education', 'Fight Cancer', 'End Poverty', and 'Uphold Human Rights.' From each personal investment into Motif Investing programmes, Swell gets minimum $1, from which minimum $0.20 goes to a respective cause, including Jumpstart for Young Children, Inc., The American Association of People with Disabilities, and Susan G. Komen for the Cure.