To celebrate the Earth Day that was on April 22 this year, the market research company conducted a global survey of 28,000 consumers older 15 y.o. across 23 countries to find out their level of environmental consciousness and ethically driven buying behavior.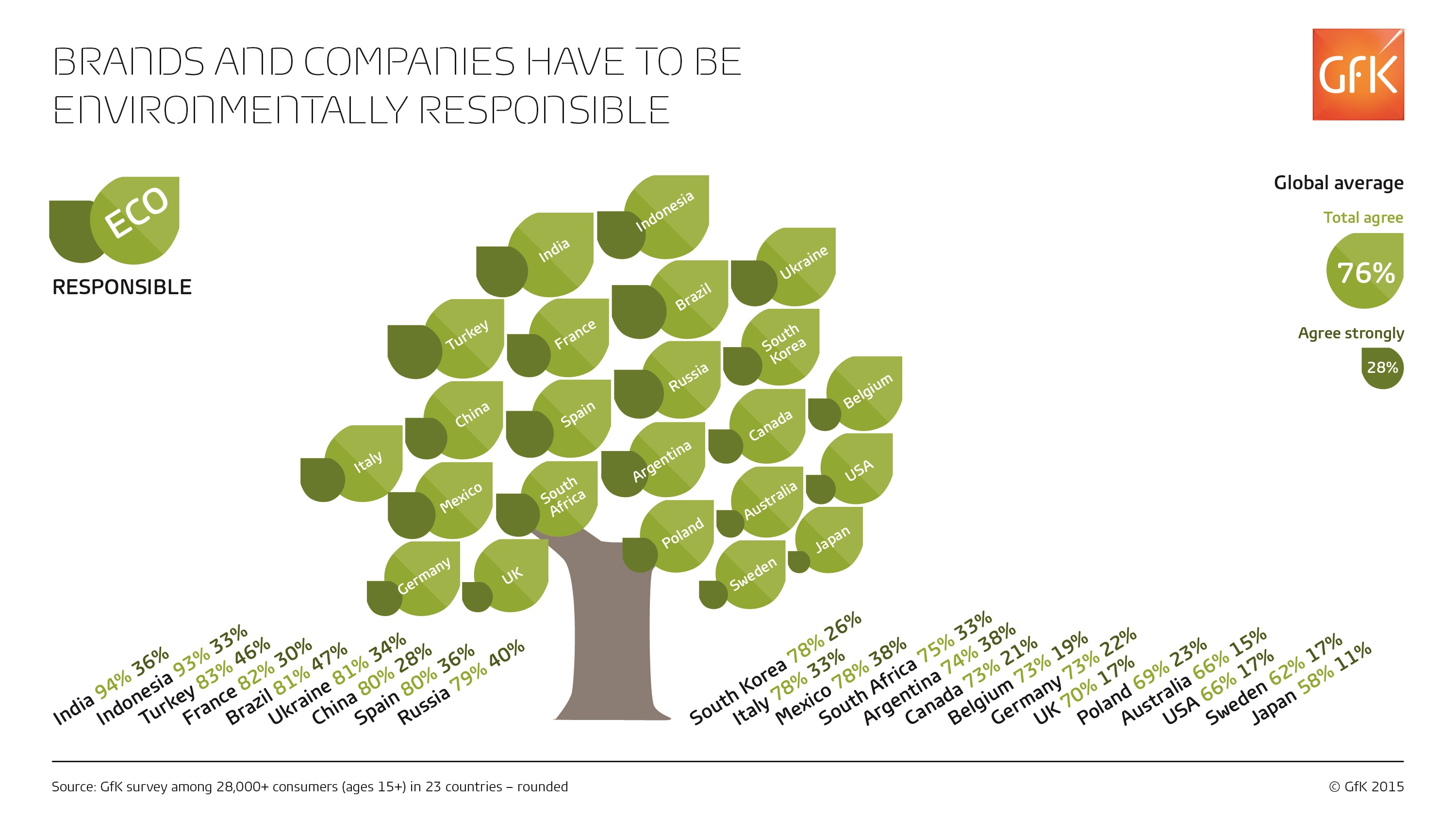 The study revealed that 76% of global respondents agreed that brands have to be environmentally responsible (vs. 6% who didn't think so); 63% said they felt guilty doing something that hurt environment (vs. 14% who didn't care); 63% said they bought products and services that appeal to their beliefs and values (vs. 11% who didn't find any links between their purchases and beliefs).
Some more specific findings from the survey are, as follows:
1. Generally, women are more eco-conscious than men. 78% of women vs. 75% of men support the statement that businesses must be environmentally friendly. 29% of women vs. 26% of men strongly support the statement.
2. The age group of 30-39 y.o. is the eco-friendliest, followed by the group of 40-49 y.o. and over 60 y.o. who agree that businesses must be responsible.
3. Consumers from developing countries (India —93%, Indonesia—94% ) show more concern about the environment than consumers from the developed countries such as the U.S., Japan or Sweden.
4.  The age group of 50+ y.o. is the most numerous among those who feels guilty doing things that are not environmentally friendly (58%). Notably, 15-19-year-olds show the highest percentage of those who strongly agree the the statement.
5. 30-39-year-olds and 20-29-year-old dominate show the highest percentage (68% and 65%) among those who buy things according to their values and ideas. Again, developing countries lead the chart, while the developed Belgium and Sweden are in the bottom of the list.
The full study can be downloaded here.