The annual ranking of the most valuable brands has been recently revealed by the business publication Forbes. Apple ($145.3 billion), Microsoft ($69.3 billion), Google ($65.6 billion), Coca-Cola ($56 billion) and IBM ($49.8 billion) are the top five on the list.
Apple which sold 74.8 million iPhones in the last quarter of 2014, and grew in value by 17% since the last ranking, is the most valuable brand in the history of business. It's long-time rival Microsoft is 10% up, however, still nearly two times less in brand value.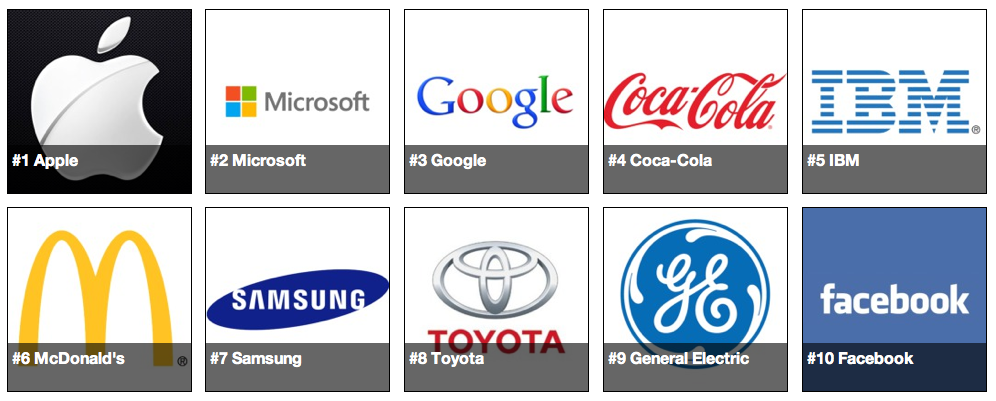 Of nearly 200 biggest global corporate and consumer brands from 15 countries representing 20 categories, the Forbes analysts defined top 100 represented in the U.S. Among them there are 9 German, 7 Japanese and 7 French brands.
The list is dominated by the technology companies (15), while FMCG and automotive combined have just 13 positions. The most valuable FMCG brand is P&G's Gillette (26th, $20.4 billion), and among the car brands the Japanese Toyota performs the best at the 8th position, worth $37.8 billion.
The biggest risers this year are Facebook (+54%), Amazon (+32%) and Disney (+26%), while Adidas (-14%) and Danone (-13%) dropped in brand value most significantly.
The brand value was calculated based on publicly available financial figures. The detailed explanation of methodology is available here. The World's Most Valuable Brands top 100 interactive gallery is available at Forbes.