The research firm Nielsen has revealed the latest report on Consumer Confidence index in the first quarter of 2015. The confidence—i.e. consumers' optimism and willingness to spend more—has risen 1.0 from the Q4 of 2014 globally and reached 97 (where 100 is a neutral baseline point). However, despite the general positive trend, consumer confidence differs by country and regions significantly due to local geo-political and economic circumstances.
Asia-Pacific has posted the highest index score of 107; North America retained the same level of 106; Middle East and Africa climbed one point up at 96 (negative index); Latin America decreased two points to 86 (the most pessimistic consumer anticipations since 2011, due to the economic situation in Brazil, mainly). Europe steadily shows the lowest consumer confidence of all regions—77, one point up the Q4, 2o14 index, however, the general trend is positive.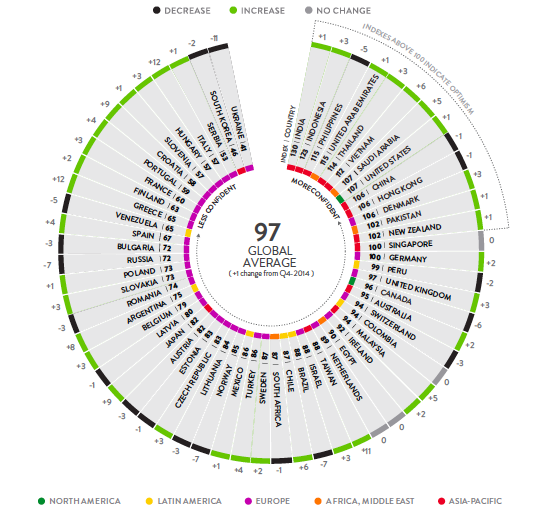 On the country level, the biggest risers this quarter were Greece (+12), Italy (+12), and Taiwan (+11). The lowest score and the biggest drop of consumer confidence was in Ukraine (41 points, -11). Overall, 37 of 60 surveyed countries have demonstrated optimism, against just 17 in the last quarter of 2014.
Among the developed countries, the index score increased most in Japan (+9). Germany and Denmark were the only European developed countries that reached a neutral points (100 and 106 respectively), while all the rest, including the U.K.  (97), were negative. Overall, the developed economies showed improved consumer confidence. On the contrary, the developing BRIC countries—China, Russia and Brazil—declined.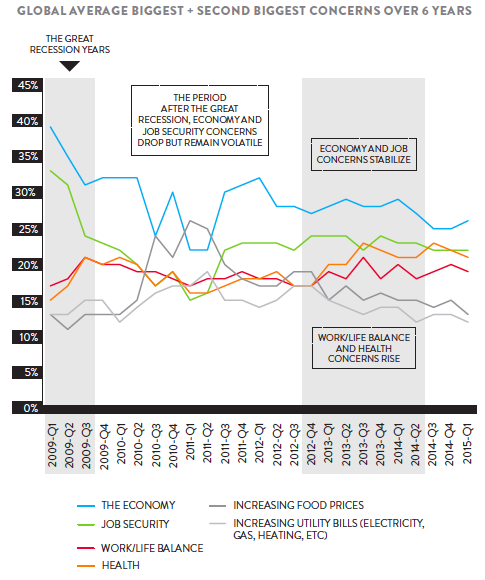 A noteworthy qualitative trend revealed by the survey is that over the 6-year period (2009-2015), concerns about the economy and job security showed an inverse relationship with concerns about health and work/life balance.
"While the economy is less of a consumer concern now than it was during the financial crisis, it is still consumers' top concern in most countries, alongside job security," said Louise Keely, senior vice president, Nielsen. "In some countries, concerns about political stability also spike during periods of crisis, such as in Brazil in the last quarter. But personal concerns about health and work/life balance are not far behind, and in China, these concerns are actually more prevalent than economic concerns. Consumer-facing businesses have an opportunity to help consumers address these more personal concerns."
More findings and figures are available at Nielsen.