When we buy green leafy salad in a supermarket, do we question its origin? Chances are the plants encountered nor soil, neither natural sunlight and was cultivated indoors in mineral nutrient solutions or in a medium—using a modern method of hydroponics, especially popular in urban areas.
Soilless cultivation of vegetables was known to humankind since the ancient times, however, the first official research on the topic was made by Francis Bacon back in XVII century. The term 'hydroponics' was coined later, in 1937, by the two scientists from the University of California at Berkeley—W. F. Gericke and W. A. Setchell—whose research works triggered commercial interest and revolutionized traditional agriculture.
Pros and cons
Hydroponic plant cultivation is widely considered more sustainable than regular farming as it uses around 90% less water. Secondly, hydroponic farming yields more vegetables and herbs in a shorter time. Thirdly, its carbon footprint is minimal as the greens are grown locally. Soilless cultivation minimizes the use of harsh chemicals needed to fertilize soil; it does not depend on the climate or season and can be installed indoors. Also, hydroponic farms physically take less space (and can be even vertical), are fully controlled remotely and often require less human labour.
Another commercial advantage of hydroponic farming is adaptability and scaling: you can have either a small mini-greenhouse at home to grow vegetables for your family only, or run a huge production of industrial scale for sale. Moreover, the green produce grown hydroponically is safe and has the same nutritional value as regular greens, however, it can not be certified as organic in some countries, including the U.S.
Another considerable con often cited by environmentalists is high level of energy consumption which actually generates much higher carbon footprint than a regular farm and is several times more expensive.
Other experts admit a watery 'artificial' taste of the vegetables and herbs grown hydroponically due to the higher water content in them. Not to mention that the range of vegetables that can be grown hydroponically is fairly limited. That's why many farmers mix this method with natural plant cultivation using soil and sun.
Facility manufacturers suppliers
Flood and drain systems, lighting, controls of temperature, humidity etc.—all these facilities are necessary to start a hydroponic greenhouse. Although these equipment can be purchased almost in any country now, the biggest and oldest manufacturers are mainly North American companies.
This is a U.S. manufacturer of one of the best lighting solutions for hydroponic farms, including reflectors, bulbs, ballast and tube fluorescent fixture. In their catalog there are products for all scales—from lamps for small indoor greenhouses to professional lighting systems for large farms. The site features an an educational section, where you can learn all about the lighting for hydroponics and the process of growing. The company has a fully-owned subsidiary of Iwasaki Electric Co. Ltd in Tokyo.
This American company sells equipment for hydroponics, among other things, since 1978. The range of tools includes pH meters, moisture meters, titrators, photometers and others.
This company is one of the leading innovators in the field of air filtration for hydroponic farms with headquarters in Canada.
The international company with offices in California, the U.S., and France that supplies its products worldwide. Founded in 1970, it is one of the leading manufacturers of equipment for hydroponic cultivation: facilities, fertilizers, additives, substrates, pH-meters, etc. They run their own farms using aeroponics when the plants receive nutrition from a balanced solution saturated with oxygen.
Manufacturers of nutrient solutions and substrates
This company has developed their own patented process of growing plants in special units instead of substrates or nutrient solutions. Their cubes, Sure to Grow, are sterile, light, are compatible with the majority of hydroponic systems, have unlimited shelf life, and are environmentally friendly.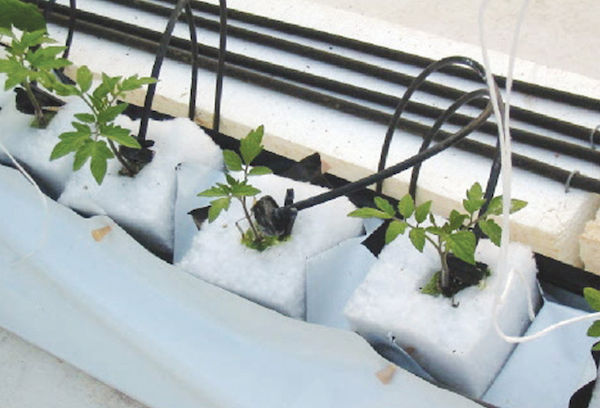 Photo: Sure to Grow units
This is one of the biggest manufacturers of nutrient solutions for hydroponics, headquartered in Canada.
This Chicago-based manufacturer makes supplements, substrates and nutrient solutions for hydroponic gardening. The company also provides complete hydroponic systems and accessories.
This is a manufacturer of nutrient solutions for hydroponic farms from Los Angeles. Their website features a calculator that allows customers to make an individual estimation of how much nutrients they need.
This U.S. company sells solutions and for hydroponic and aeroponic systems around the world. It gives a lifetime warranty on the quality of their products. EZ-CLONE won awards in the industry for «Best aeroponic machine for vegetative propagation» and «Best New Product for Gardening.» The site has a blog with a lot of useful information on «how to».
Knowledge hubs
This news website covers all topics related to greenhouse cultivation, including hydroponics. The site offers newsletters and a paid subscription to their magazine.
This online store sells everything for gardening and hydroponics, including books and educational videos.
Created by an online retailer Simply Hydroponics, the Hydroponic University online offers answers to any questions related to the topic. The are sections such as «What is hydroponics» for the beginners and the «Ask the Professor» section for experienced farmers who may need to consult with a professional.