In its third year, Kantar Worldpanel reveals the annual Brand Footprint report 2015 on the most frequently chosen FMCG brands in the world. The top three brands in the global ranking are Coca-Cola, Colgate and Maggi. The UK's favourites are: Warburtons, Heinz and McVitie's. Notably, all top 10 brands in both global and UK rankings represent food and drinks companies only.
Each of 11,000 brands is analysed against four criteria: Consumer Reach Points (that represents how many times a brand was chosen during a year), Penetration (how many households buy a brand in all 35 surveyed markets), and Frequency (how often it is bought). The table of top 10 brands also features the CPR dynamics (growth or fall).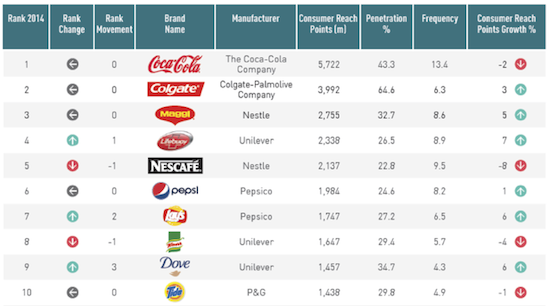 In the global ranking, Coca-Cola gains the first spot for the third time in a row, while Colgate outperforms the soda brand in penetration—around 65% of global consumers use it.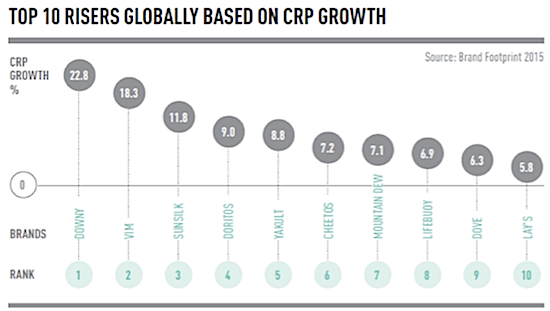 The analysts behind the ranking have also defined the fastest rising brands based on their CPR positive dynamics, and they are: Downy, VIM and Sunsilk. The fastest growing top three are PepsiCo's Lays, Doritos and Cheetos. Experts think that the success of 75% of brands is due to the extensive growth of shopper base (increasing penetration).  This is the one defining characteristic among all growing FMCG brands.
"This year, we reveal that growing FMCG brands follow one simple rule, growth is about penetration: retaining and increasing the number of shoppers choosing the brand," commented  Josep Montserrat, Global CEO of Kantar Worldpanel.