What can the famous 'Reassuringly Expensive' Stella Artois advertising campaign teach us about the way branding has changed and have we seen the end of the third person pronoun?'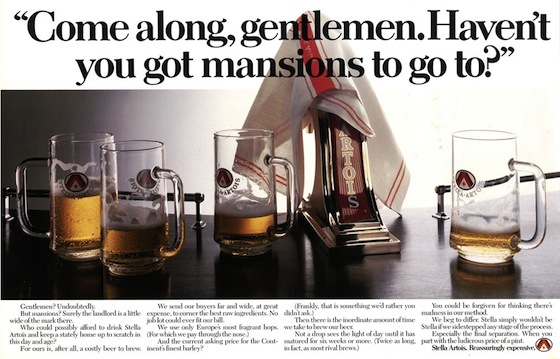 To help me understand what I'm doing right now I often look back. Analysing the way things have moved on helps crystalize my thinking. I found myself looking at old ads for Stella Artois, which threw up some obvious differences between branding then and now beyond the look of the communications.
30 years ago brands were looking to occupy a place in consumers' minds. Positioning theory taught us that people created ladders in their minds to make sense of the world around them. For example, if someone asked you to name the number one cola, what would you say? And what if they asked you to name the number two cola? I imagine that virtually everyone would have the same answers. It's an obvious example but it makes the point.
The 'reassuringly expensive' campaign for Stella Artois, which began in 1982, was a great example of how to build a brand back then. Within the offer of drinks served in the local pub, Stella Artois was a few pence a pint more than the other lagers on tap. The advertising turned that fact into a benefit. But it went further than simply justifying the price difference. In terms of positioning the brand and finding a place in our minds, 'reassuringly expensive' placed the pub Stella Artois tap at the top of the pile.
But what's changed in the last few years?
Brands are seeking to connect with consumers on a deeper level.
Brands are no longer looking to occupy a place in our minds, they're trying to find a way into our lives and hearts. The current brand approach for Heineken highlights the difference.
After interviewing 900 consumers Heineken identified two types of consumers, those that savour beer (who are more likely to drink craft beers) and those that look for an amplified experience on a night out. Targeting the second group with the challenge to "Live Legendary'.
Whereas the Stella Artois campaign made a statement about the product, Heineken's 'Live Legendary' opens the door for consumers to become part of the brand.
The way we consume brand content has changed and this fits perfectly with the rise of social media providing a platform to start a dialogue, allowing consumers to interact and share their experiences. As an example, one of the 'Live Legendary' activities engaged consumers to create their own short films. What this does is make 'real' people (you) the brand hero.
Here's another example of increased personalisation in branding. A friend of mine used to recount an old adage in advertising, 'if you're talking to a one-legged man in Manchester, show a one-legged man in Manchester'. The mere appearance was enough for the consumer to relate to the advertising. Which makes it identifiable but not personal. It's noticeable how banks and building societies have taken to very personal story telling to get their message across, focusing on the lives of individuals. The latest Halifax TV commercial is about Vicky Harris, someone who deserves their Xtra help.
Connecting with real people has changed the starting point for communication.
As I looked through a few old print ads for Stella Artois, I came across a great headline '"My shout" he whispered' that was clever but left me feeling a little disengaged. Why?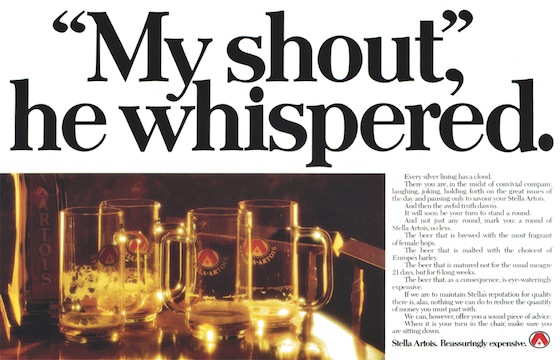 The headline in this Stella Artois ad uses the third person pronoun 'he'. It's clever and no doubt award winning but it's less personal. I found myself asking who is the 'he'? Perhaps because of the way brands have been communicating for the last few years I'm looking for depth? Today you would imagine the line reading, "My shout I whispered' and telling the story through the eyes of one person. Presenting a personal view of the brand.
As brands look to connect on a deeper level, and as social media invites consumers into a world of shared brand experiences, just like this ad's typeface and layout, the unexplained reference to 'he' suddenly seemed very dated.
About the Author

David Rogers is the owner and Creative Director of Nottingham-based brand & packaging design agency Pure, which works with some major names in the UK such as Unilever, Wilkinson, and Greencore, as well as many international/local brands, specifically in Russia.