Tetra Pak, an international food packaging and processing company, together with Global Footprint Network, a sustainability-focused nonprofit, have conducted an online survey of 1,040 U.S. consumers and around the same number of CPG professionals to find out what they know about natural resources scarcity and how they act on that.
Less than a half of consumers (41%) say they are 'very aware' of the problem and its global environmental consequences. However, even those who are not fully aware of the resources scarcity, are ready to buy locally grown food as much as possible to reduce carbon emissions (75%), do not buy excessive amounts of food that may go to waste (70%), and look for products in a renewable, sustainable packaging. Interestingly, women are more eco-minded than men: 90% of women would choose renewable packaging if they knew it would cut carbon dioxide emissions, vs. 77% of men.
In their turn, the CPG professionals were asked if were aware of the impact of scarce natural resources to their business. The majority, 51.7% said they were «somewhat aware», and 1.7%—not aware at all. To tackle the problem, 42% of the respondents optimize use of resources in their company, 50% analyze how scarcity impacts their business, 55% access long-term availability of materials, and 56%—already use renewable materials.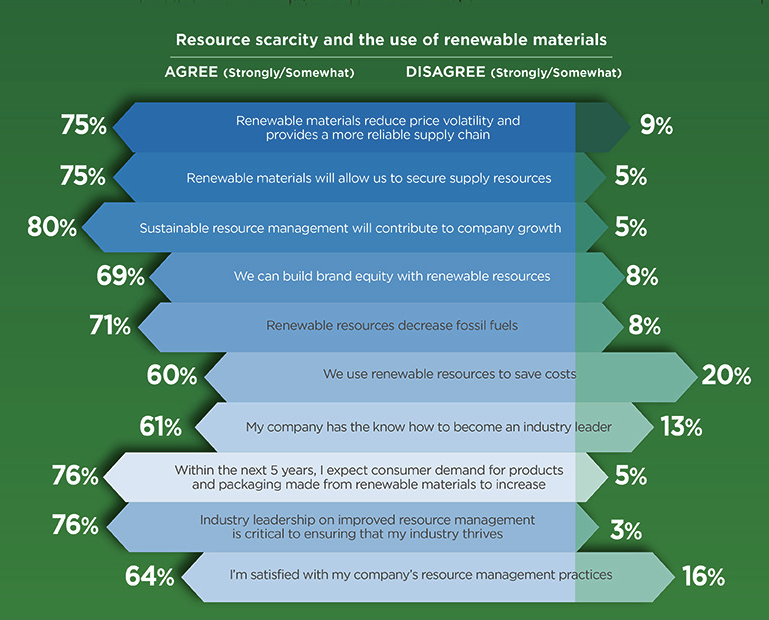 Just 64% are satisfied with their company's resource management practices.
To read the full report, please visit the Tetra Pak's website Doing What's Good.